Automate the monitoring of your hybrid IT
Major transformations impact today's IT: Many services are moving to the cloud, service monoliths are broken down into microservices. In such a divided world between on-premises and cloud deployments, but also classic services and containerized services, a powerful tool is needed to monitor your entire IT.
The newest Checkmk version is here to help you manage your IT transformation – combining the best of both worlds for a powerful, seamless hybrid IT monitoring.
Kubernetes
---
Maintaining visibility for Kubernetes
Container orchestration tools like Kubernetes are great for handling containers, but come at the price of less control and visibility. Due to the many layers of abstraction and the high complexity of container orchestration, it is easy to miss something. Scheduling issues and container crashes as a result of insufficient resources can however be prevented by monitoring Kubernetes.
Checkmk comes with a complete Kubernetes monitoring, providing all the metrics and checking the health of all relevant indicators. The monitoring software offers integrated alerting using intelligent thresholds to notify you about potential resource capacity constraints across all levels of Kubernetes.
Checkmk automatically discovers your Kubernetes environment and adapts to changes thanks to the new "Dynamic Configuration".
Docker
---
Monitoring Docker with ease
Containers have come to stay, but keeping an overview of all your containers can be difficult due to their very nature. With Checkmk you can get a graphical overview of all the key health indicators for your nodes and containers to quickly discover any issues in your container infrastructure. On top of that, Checkmk provides you with a lot background information like labels and keeps track of how your Docker images are used.
We completely revised our Docker monitoring that was introduced with the previous Checkmk version. The new Python-based plug-in provides more configuration options, increased performance and better support of older Docker versions.
The Docker monitoring benefits greatly from the new feature "Dynamic Configuration". It's no longer necessary to configure monitoring of individual containers – Checkmk automatically adds new containers and can remove them, when they are destroyed.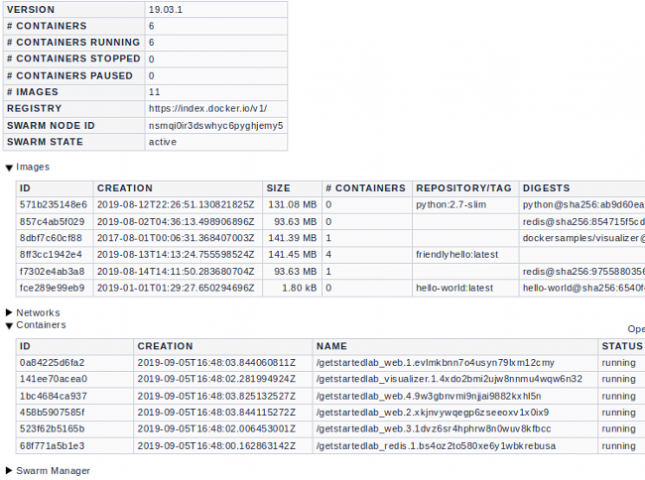 Amazon Web Service
---
Keeping an eye on all your AWS Services
AWS comes with countless services to ease deploying applications in the cloud. Keeping an eye on all of them can be difficult. The new Checkmk version comes with an upgraded AWS monitoring with new and improved checks and a view on costs and limits for all major AWS services.
Microsoft Azure
---
Ensuring smooth Azure Services
Even though Microsoft handles all underlying infrastructure for its public cloud services, monitoring Microsoft Azure on your side is still useful. Make sure that your Virtual Machines, storage, network or SQL databases work as planned and track the costs to ensure your cloud costs don't run out of control.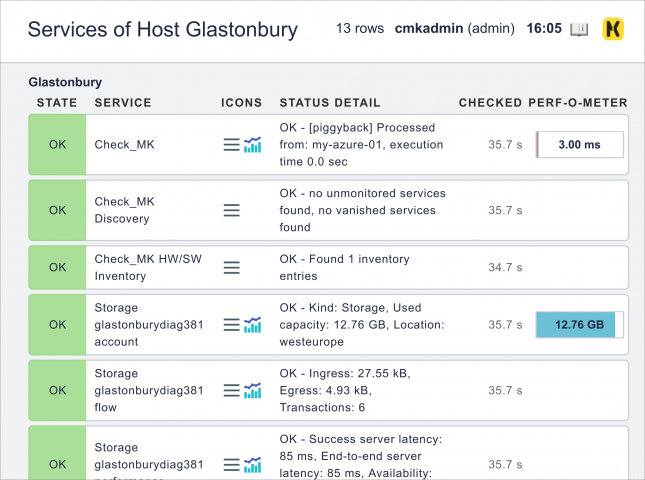 Dynamic Configuration
---
Monitoring dynamic infrastructures
In cloud and container environments the lifespan of virtualized infrastructure has radically changed. For example, containers can often exist for less than a minute. Manual configuration of a dynamic infrastructure is no option.
Modern monitoring systems have to address the challenges of these environments and automatically adapt to the frequent changes. The Checkmk Enterprise Edition introduces the "Dynamic Configuration". It automates the entire host and service discovery process to makes sure that your monitoring reflects your dynamic infrastructure.
Labels
---
Understanding more with labels
Labels are a key concept in containers and are used for adding metadata to objects. Without them, it will often be hard to understand the purpose of a container.
The same is true for monitoring cloud services. Labels will help you organize and also make better sense of your monitoring.
Checkmk now automatically imports labels for containers, cloud services, but also for VMware ESXi. To take things further, you can create your own labels, mass assign them with rules and organize your monitoring around them.
---
A bright interface in a dark environment is strenuous for your eyes. The new dark user interface is more eye-friendly and will help you to focus on your work. Apart from that it looks fancy. We also improved our standard modern theme and increased the amount of information visible to you.
220 new check plug-ins
and many more updated
Multiple times faster
than Checkmk 1.5
7 integrations
newly added
Integrations
---
Integrating monitoring into your workflows
Handling issues in your IT requires the monitoring system to detect those issues, to alert the appropriate teams and to quickly help with detecting the source of the problem. Checkmk already provides detailed monitoring with an elaborate alerting system. The new version comes with new and improved integrations into many incident management and communication tools. So, relax and rest assured that all incidents are taken care of.
Windows Monitoring
---
Windows monitoring 2.0
The old Windows agent has reached its limits – thus we completely rewrote it with a simple logic and high quality, modern, clean code – written how Windows software should be created.
Benefit from an easier configuration file in YAML, enjoy great diagnostic tools, better extendability and compatibility with older plug-ins.
And don't worry, the new agent needs the same resources as the old one, consuming almost no disk space (2MB), no RAM (2-3MB). With an average CPU load below 1%, the Checkmk Windows agent doesn't overload your system.
Business Intelligence
---
Visualizing dependencies
Checkmk comes with a powerful feature to model business-critical processes based on a lot of individual data points with the Business Intelligence.
Visualizing larger and more complex business processes has gotten now much easier to quickly spot the root causes of issues.
Share easy-to-understand insights from your monitoring across your company with various options for modelling the dependencies across your IT.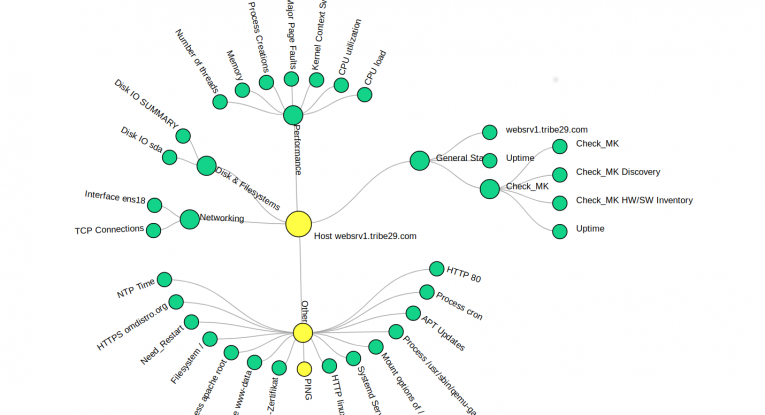 Check Plug-ins
---
Extending your monitoring with 220 new check plug-ins
The ability to monitor your entire IT infrastructure from network devices, servers to applications is crucial to prevent downtimes and increase performance. For the new Checkmk version, we've added 220 new monitoring check plug-ins and updated many existing ones.
Really, we're quite proud of this – looking at other monitoring software that doesn't even offer 220 check plug-ins in total, it's impressive that Checkmk now comes with more than 1,780 checks.
Some highlights:
Performance
---
Monitoring performance at its best
Information Technology is the engine of modern businesses. With the Internet of Things, more and more devices are becoming connected. Monitoring systems thus need to go beyond monitoring a couple of thousand services and handle millions of services instead. Checkmk's performance so that our customers can monitor more than 300 locations across the world or 70,000 hosts with more than 2,000,000 services – all in one monitoring software.
Bottlenecks like generating a configuration were improved by a factor of 5 to 10 by optimizing caches and functions, and by implementing multiprocessing that cleverly splits CPU resources between generating the configuration and running the monitoring core.
Loading configurations in setups with large amounts of folders is now also 6x faster. The overall performance for LDAP authentication and synchronization was improved as well.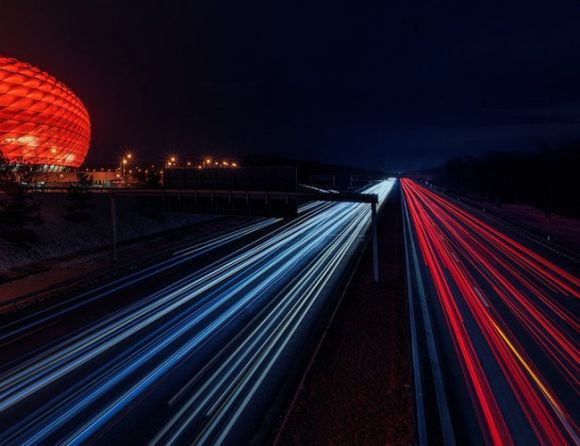 Security
---
Staying on top of security for your monitoring
Your monitoring system resides in the heart of your IT. That's why we always focus on "security by design". For example, the Checkmk agents can't compromise your servers and encrypted communication is possible across any Checkmk interface, now also including Livestatus.
Security experts from the outside to review our code and run regular penetration tests to make sure Checkmk remains secure.
Learn more about best practices for securing your monitoring from security expert Ralf Spenneberg.
Making monitorinig life easier
Sometimes it's the little things that make your life easier – that goes as well for your monitoring software. Have a look at some of the minor (but no less important) improvements in Checkmk 1.6.
No long drop-down menus anymore – let Checkmk auto-complete your queries
Learn more
A privilege originally only for hosts, services can be assigned standardized tags now as well. Service tags can be used to for building custom views to better organize your monitoring.
Handle your notifications and rules based on time periods for more flexibility. For example, when users are not at work to reduce the noise and increase acceptance of the monitoring system. The existing time period management has been improved in several ways.
Learn more
Werk #6628
Predefined Rule Conditions
The rule-based configuration approach of Checkmk already reduces the configuration effort significantly. Reusing existing rules can now be easily done with predefined conditions.
Learn more
Werk #7333
The command "omd cleanup" removes unused Checkmk versions and frees up disk space.
Learn more
Werk #6283
Immediate Service Discovery
Discovered services appear now immediately in the user interface while the discovery continues in the background.
Learn more
Werk #6930
Fleixble Rule Conditions for Tags
Tag groups with multiple options can now be more flexibly combined in rulesets to reduce the number of required rules.
Learn more
Werk #7812
More Customization Options
Better Visibility of Graph Values
Values of metrics now appear if you're hovering your mouse pointer above the respective data points on a graph.
Learn more
Werk #6770
Improved Log Monitoring in Distributed Environments
Log monitoring via the event console is now more flexible in distributed monitoring environments.
Learn more
Werk #6226
Easier Connectivity for Proxied Networks
To enable components to connect to external resources in proxied networks more easily, it is now possible to configure several HTTP proxies globally.
Learn more
Werk #6290
Managing Distributed Monitoring Environments
The "Distributed Monitoring" pages have been redesigned to make it easier to manage multiple Checkmk sites.
Learn more
Werk #7081
Better Graphite and InfluxDB integration