Start Monitoring Everything
with a free 30-day Checkmk trial
Checkmk is a powerful, comprehensive system for monitoring servers, networks, applications, clouds, microservices, and more. With enterprise-grade support and unlimited scalability.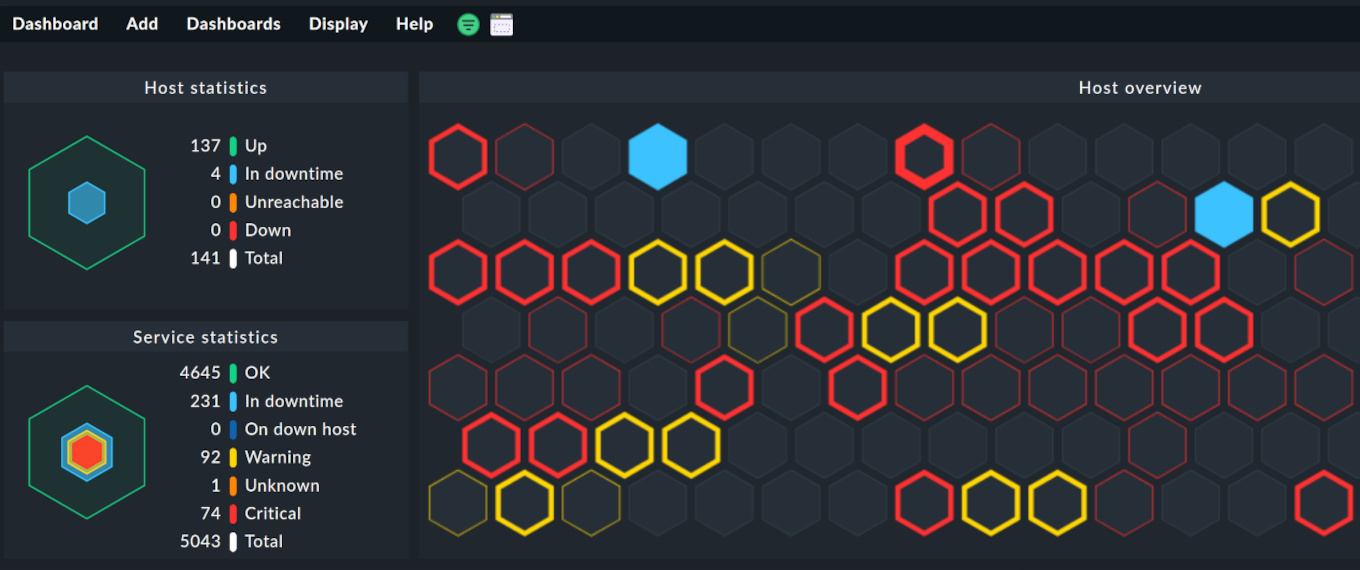 Automated monitoring
Avoid configuration hassles with auto-discovery, auto-configuration, built-in agent management, and powerful APIs for integration.
Future-proof monitoring
Checkmk is multi-cloud ready, and excels in both dynamic container environments and on-premises networks. Monitor any environment.
Limitless monitoring
Monitor world-scale networks with hundreds of thousands of hosts using the high-performance core and distributed architecture of Checkmk.
Included features
Fully automated monitoring through APIs, auto-discovery, and auto-configuration of plug-ins, saving precious operator time
From zero-to-monitoring in minutes, maximizing time to value
Broadest collection of vendor-maintained plugins (>1,900)
Scalable monitoring with a distributed architecture
Tags and labels provide relevant context for advanced filtering
Data visualization with modern customizable dashboards
Fast problem identification and root cause analysis
Smart, granular alerting reduces notification overload
Checkmk-Prometheus integration (beta) bridges the gap between DevOps and Ops teams, providing complete visibility
Advanced analytics for prediction of trends and resource utilization
Seamless integration with major ITOM/ITSM tools
Supporting business leaders by modeling business process health
High availability with Checkmk's virtual and physical appliances
Enterprise grade security and data protection
Low Total Cost of Ownership (TCO) due to fair pricing, automation efficiencies, small operational footprint, and rapid deployment
Experience the features of Enterprise Edition in a small environment
---
For up to 750 services
Ultra-high performance core
Community support
---
For free
Try now
Take the hassle out of monitoring with enterprise-ready features and support
---
All features of the Free Edition +
No limitations
Distributed monitoring
Enterprise-grade support
---
From €780 /year
Pricing
Provide powerful enterprise monitoring to your customers
---
All features of Standard +
Advanced instance management
Cross-customer dashboards
Strict data segregation
---
Contact sales
Contact sales
FAQ
Yes. The number of Checkmk instances used for configuring your monitoring is completely unrestricted. The total number of monitored services is used to determine the subscription size.
Yes. The Checkmk Enterprise - Standard Edition has no limit in how many servers you can monitor. The pricing is not based on the number of servers you monitor - rather, the total number of monitored services is used to determine your subscription size. Find out more in our pricing.
No. The price is determined solely by the total number of monitored services.
For a typical data center you can expect to have around 30-70 services per host. But naturally it makes a difference if you, e.g. monitor a switch only with PING, or a database server with 50 Oracle instances.
The number of productive monitored services is used to determine the appropriate subscription level. This number can be found in the top left of the Checkmk interface's Tactical Overview. If it is the case that you operate Checkmk redundantly in a HA-cluster, the services will not be double-counted. Test systems for evaluating Checkmk versions, etc., are also not counted. If multiple Checkmk instances are in use, then the sum of the services over all of the instances in your business is used to determine the subscription level. Standalone or single HA-Cluster: In your monitoring site, under the host on which your site is running, you can find a service 'OMD MYSITE performance', which has a graph tracking the number of monitored hosts and services. Alternatively, you can search for 'OMD' in the quicksearch to find this service. If the agent on the Checkmk server is older than version 1.2.8. the history of the number of services has to be assumed from the "Check Performance" graph. Distributed Monitoring: The graph already mentioned is available for each site. You can add these graphs to a shared, custom graph to get the total number of services over all sites, and then summarize these.
No, you can use the Checkmk Enterprise Free Edition for as long as you want.
Yes, you can safely upgrade from the Free Edition to the Standard and Managed Services Edition at any time without losing your previous configuration setup.
Please have a look at this comparison table to see differences between all Checkmk versions that are currently available.
You need the license option "Managed Services Use" whenever you monitor IT infrastructure that you operate for or provide to a "third party". A "third party" is a company that is not legally part of your company, i.e. it is not an affiliated company, shareholder, or have other similar interests. The third party is simply a customer. It is irrelevant whether the third party itself uses the software or whether you use it only internally, for example, to ensure your own service level agreements towards this customer. It is also irrelevant who owns the infrastructure and whether this infrastructure is located in your data center or in that of your customer. Typical examples: - You use Checkmk to monitor physical or virtual infrastructure that you make available to a Managed Services customer for exclusive use (e.g. provision of virtual machines or hosting physical servers) - You use Checkmk to monitor physical or virtual infrastructure that you operate for a specific Managed Services customer of yours (e.g. as part of a broader Managed Services agreement). The license option 'Managed Services Use' is not required if you only provide your customers with services (e.g. SaaS, email, databases or online shops), but no infrastructure for them to use exclusively. A special feature of the Managed Services license is the purely passive right of use for the Managed Services customer. This means that your Managed Services customer may only have read access to the web interface to retrieve information and/or reports and set maintenance periods. Your Managed Services customer is not entitled to active use, especially in the form of own configuration changes. If this is intended, this customer would require their own separate Checkmk subscription. The Managed Services Usage license option always includes the possibility of using the software as a group. This is already included for customers with the subscription 'Checkmk Enterprise Managed Services Edition' Checkmk Enterprise Managed Services Edition and must only be purchased separately for the Checkmk Enterprise Standard Edition. Conversely, the Group Use license option always includes the possibility of using the software as a managed service provider.
Ready to explore the full power of Checkmk?
Download and try Checkmk IT monitoring platform for free for 30 days.