Intelligently monitor all your cloud applications and infrastructure
Monitor and maintain the health and reliability of your cloud workloads
Continually optimize your cloud performance
Auto-detect and monitor cloud components and keep up to date with any changes made in your cloud environment
Detect issues with 3rd party services, load-balancers or disconnected hosts
Monitor cloud instances to get deep visibility into the resource usage both at OS level and at application level
Supported cloud platforms and vendors
Amazon Web Services
Elastic Load Balancing
Microsoft Azure
Virtual Machines
Microsoft Azure
Virtual Network
A cloud monitoring tool built for enterprise cloud ecosystems
Checkmk provides in-depth insights into the health and performance of your cloud infrastructure and allows IT adminstrators to create custom dashboards to monitor all nodes, servers and hosts.
Analyze various system and infrastructure parameters to ensure optimal performance for your applications and cloud resources.
Get full visibility across all cloud and on-premise tiers, including OS-level and other important network metrics.
Manage system health and easily trace errors across complex, distributed architectures.
Eliminate all blind spots by detecting issues related to 3rd party services, load-balancers, disconnected hosts, or limited network visibility.
Dynamic alerting
Monitor, query and alert on metrics and errors for specific services - including those based in multiple regions and/or timezones.
IT budget monitoring
Stay on top of your IT spending by keeping an eye on your cloud infrastructure's cost and the services that you are using.
Unified insights
Use highly customizable dashboards to monitor alerts, track events and visualize consolidated performance metrics.
Intelligent AWS monitoring
Simplify cloud complexity by using an all-in-one platform to move beyond application performance monitoring.
Checkmk is built for monitoring your public, private and/or hybrid enterprise cloud ecosystems and helps with:
Unified insights into the availability and performance of workloads running on AWS
Custom dashboards that provide an overview of your entire cloud ecosystem
Granular detection of issues and in-depth root-cause analysis
AWS services currently supported by Checkmk: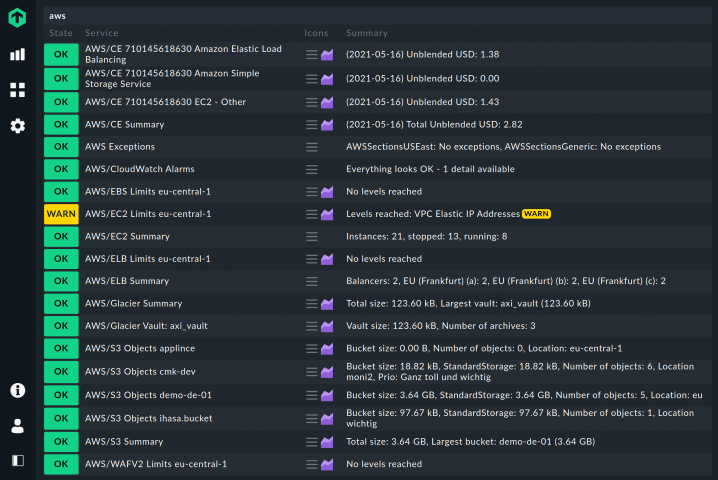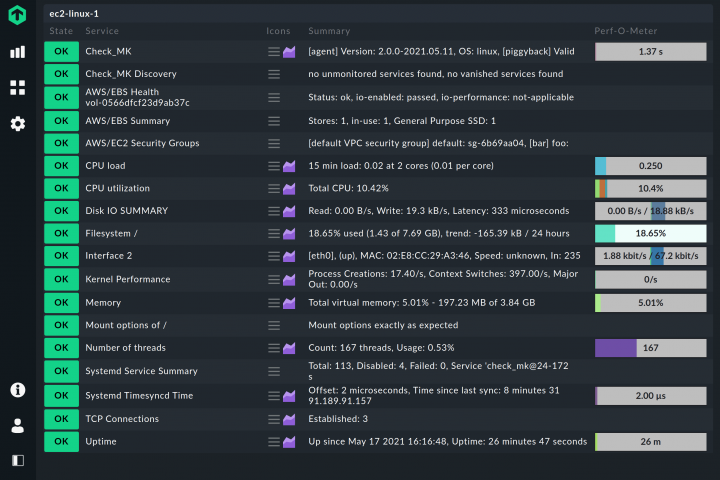 Full-stack Azure cloud monitoring
Monitor high-volume Azure SaaS, IaaS and PaaS production environments. Get detailed insights and metrics on the performance of your systems, applications and cloud resources.
Use Checkmk to:
Visualize and correlate performance metrics across your entire environment
Identify the databases and web services which perform suboptimally
Create alerts and notifications with custom filters that can be applied to Azure workloads
Azure services currently supported by Checkmk:
Automated, dynamic cloud monitoring
Monitoring your cloud environments is now radically simplified since Checkmk 1.6.
The already existing auto-discovery for services will be complemented by the Dynamic Configuration Daemon for hosts. This means no more manual adding and removing of hosts (e.g. your EC2 instances) into your monitoring — this will be done automatically by Checkmk.
You will thus benefit from an automatic detection, configuration and mapping of your hosts, services and nodes.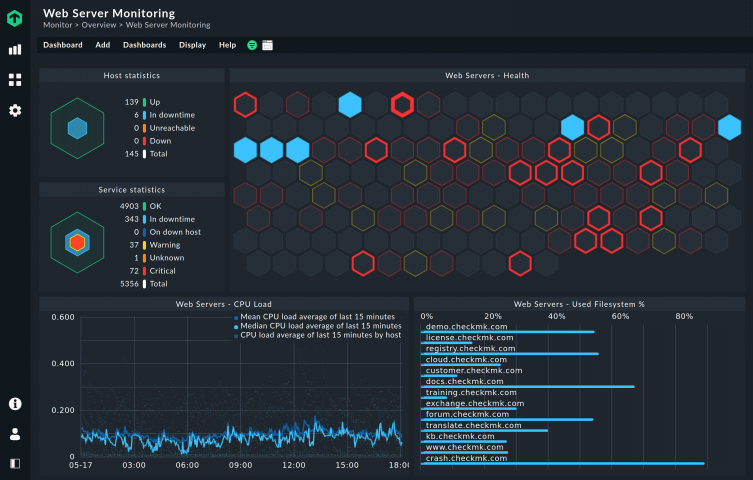 ---
With Checkmk we have visibility and insight into the systems and applications that power our business. We know the lifecycle and usage patterns of our systems thanks to Checkmk and this is really a powerful feature when making important business decisions regarding these systems.
We do not have to do guess work, it is a matter of pulling up the right view or generating the report and looking at the details.
Trusted by global brands and local organizations worldwide