Finally, light in the dark.
Get actionable insights into your Kubernetes cluster fast.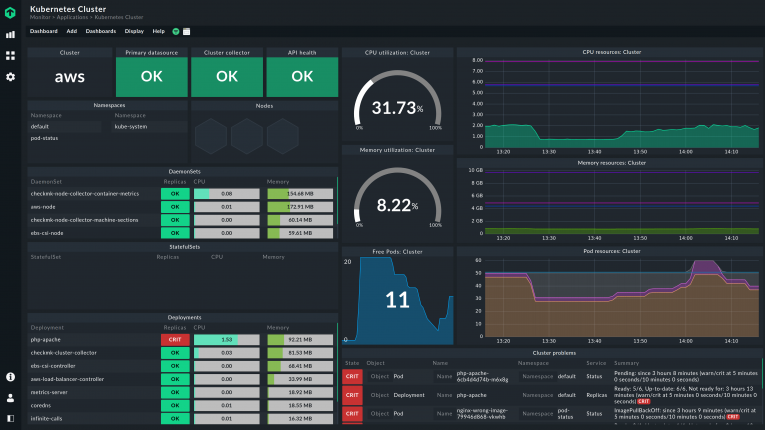 Performance and health metrics in a snap
Stop writing complicated queries to get the most relevant metrics. Extensive Kubernetes expertise not required.
Detect CPU and memory bottlenecks, imbalances, and heavy consumers.
Monitor the health of pods, deployments, statefulsets, and daemonsets to detect if an application is not scaled or not running properly.
Intelligent alerts and easy root-cause analysis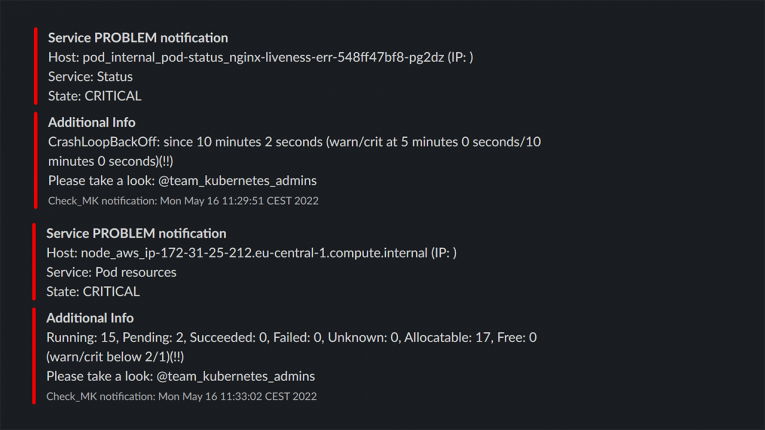 Reliable alerting for real problems
Checkmk provides all information to observe your Kubernetes cluster. Alerts only on actual issues.
Kubernetes operations know-how is built-in. Checkmk gives Kubernetes time to fix itself.
Discover the root cause of issues thanks to context information visible inside Checkmk.
Don't miss anything with comprehensive dashboards that give you insight into all your Kubernetes clusters
Checkmk handles the complexity of Kubernetes for you. Seamlessly navigate through your cluster with interconnected context-sensitive dashboards.
Check more. Understand faster.
Accelerated performance, especially for large environments.
Activate changes to your configuration even faster with a redesigned configuration core concept.
Get things done quicker with a faster UI in the setup menu (e.g., folder navigation, search in setup, ruleset navigation).
One machine. Infinite connections.
Fire up the engine of your open observability ecosystem.
New InfluxDB connector for exporting metrics to InfluxDB 2.0

Export data from Checkmk to InfluxDB
Improved configuration overview of connections
Add rules for your services and send service states as metrics

Display Checkmk data and time series with the improved Grafana connector

Improved architecture and usability with intuitive filtering
Easy query configuration and improved guidance in the process
New possibilities for data visualization with new dashlets and predefined dashboards
Intuitive dashboards for Linux and Windows monitoring, ready for you in just a few clicks. Save your team time in sifting through metrics, as the predefined dashboards already display the most relevant to you.
Safer than ever. Never set it up faster.
Security upgrade for the Checkmk agent.
With its new architecture, the Checkmk agent now uses TLS encryption without a complicated setup.
One more thing. Is not enough.
UX improvements. 2FA. Native agent encryption.
Increase security with two-factor authentication via FIDO2/WebAuthn
You can use authenticators such as the YubiKey, a USB token, a smartphone, Apple's Touch ID, and Windows Hello.
Single sign-on to Checkmk via SAML
Official support for AD Federation Service, Azure AD and NetIQ Access Manager as identity providers.
Flexibility to integrate most identity providers supporting SAML.
Easier security configuration for the Notification Spooler
Simpler set-up of secure communications for the notification spooler (mknotifyd) through native encryption support.
Watch the Video Tutorials: