Our product's name is "checkmk" (previously written as Check_MK) in one word.
In visual assets (logos, banners, etc.), we spell it all in lowercase.
In sentences in order to read it easier, please use "Checkmk" with a capital C.
By downloading our logos you agree to use them 'as is' and not edit, change or otherwise manipulate them in ways that contradict the brand guidelines outlined on this page.
The official Checkmk logo is:
For darker backgrounds we use 2 variations:
In certain situations (e.g. viewing a website page on mobile) the Checkmk logo can be represented only as the graphical part of the logo (the hexagon with the transparent arrow inside).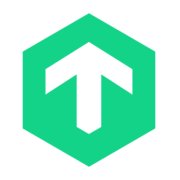 Checkmk uses green, graphite and white as its brand colors. The colors codes for green and graphite are highlighted below:
Pantone 7479 C
CMYK 68 / 00 / 63 / 00
RGB 19 / 211 / 137
HEX #13d389
Pantone 432 C
CMYK 25 / 00 / 00 / 90
RGB 44 / 56 / 67
HEX #2c3843
Contact us with any questions or special requests that you may have about our brand assets
Use any of the assets as they have been provided on this page
Provide plenty of space around the Checkmk logo
Alter any of the downloaded files in any way
Use color codes, other than those mentioned above, for displaying the Checkmk logo
Use these graphics as part of your own product, business, or service's name
Place the Checkmk logo on any physical item (pens, mugs, notebooks, badges etc.) without prior written consent from the company which develops and maintains Checkmk, tribe29 GmbH
Combine these assets with any other graphics without prior written consent from tribe29 GmbH
Use of an old versions of the Checkmk logo: