Cloud monitoring for public, private and hybrid clouds
A state-of-the-art, multi-cloud monitoring solution to help you track your cloud infrastructure to avoid costly downtimes, bottlenecks, and improve its performance.
Intelligently monitor all your cloud applications and infrastructure
Monitor and maintain the health and reliability of your cloud workloads
Optimize your cloud performance
Auto-detect cloud components and remain up to date about every change in your cloud environment
Detect issues with 3rd party services, load-balancers or disconnected hosts
Monitor cloud instances to gain in-depth visibility into resource usage at both the operating system level and the application level
Supported cloud platforms and vendors
---
Checkmk as a state-of-the-art cloud monitoring platform
Checkmk offers IT administrators the ability to monitor the cloud infrastructure of their choice, whether it is a private, public or hybrid cloud.
Analyze hundreds of system and infrastructure parameters to keep optimal efficiency of your cloud applications and resources. With Checkmk, nodes, servers, hosts, virtual networks, and databases are all easily monitored.
---
Lift & Shift or advanced use cases: we got you covered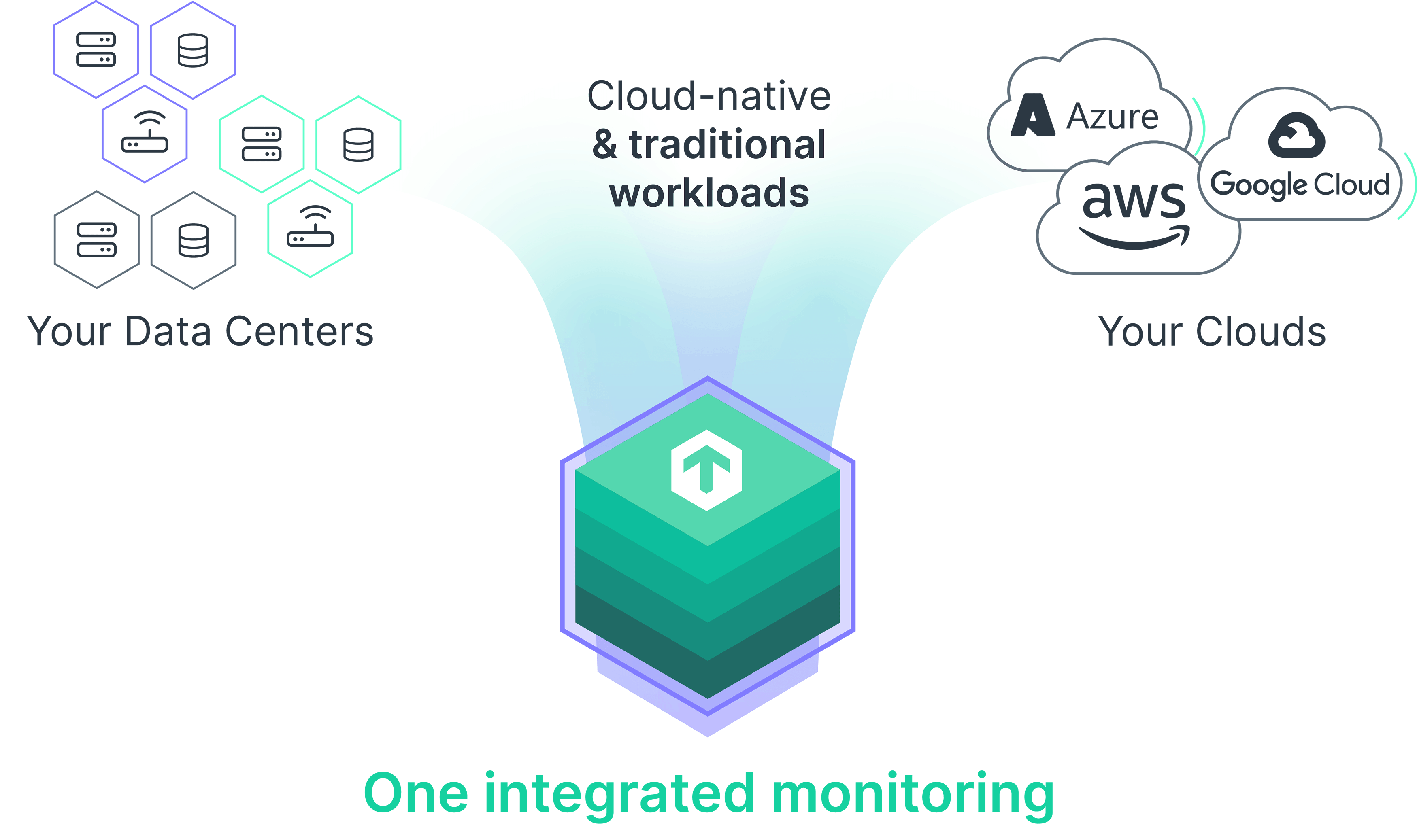 Whether you need to simply replicate your on-premises network to a cloud or you are a cloud-native, Checkmk has what you need. Lifting & Shifting your way into the cloud means replicating local structures on cloud services that can then be easily monitored by Checkmk.
A ready-to-monitor tool for hybrid infrastructures
Seamless integration to monitor any advanced use cases, like serverless functions, load balancers, container orchestration, managed databases and more
Cloud-ready monitoring agents to follow the ephemeral structures in cloud environments
Push mode that securely sends monitoring data to the Checkmk server
Monitor a cloud's health and costs
Dynamic alerting
Monitor, query and receive alerts on metrics and errors for specific cloud services – including those based in multiple regions and/or timezones.
IT budget monitoring
Stay on top of your IT spending by keeping an eye on your cloud infrastructure's costs and the services that you are using.
Unified insights
Use highly customizable dashboards to monitor alerts, track events and visualize consolidated performance metrics.
AWS Monitoring
Easily interface with AWS, whether you have a public, private and/or hybrid enterprise cloud ecosystem.
Checkmk supports the common AWS services such as EC2, S3, RDS and plenty of others. It also includes monitoring of managed services like Lambda, ECS, EKS for a complete AWS monitoring solution.
Gain insights into availability and workloads on a variety of AWS services
Keep an eye on everything going on in your AWS cloud with the help of dashboards
Granular detection of issues and in-depth root-cause analysis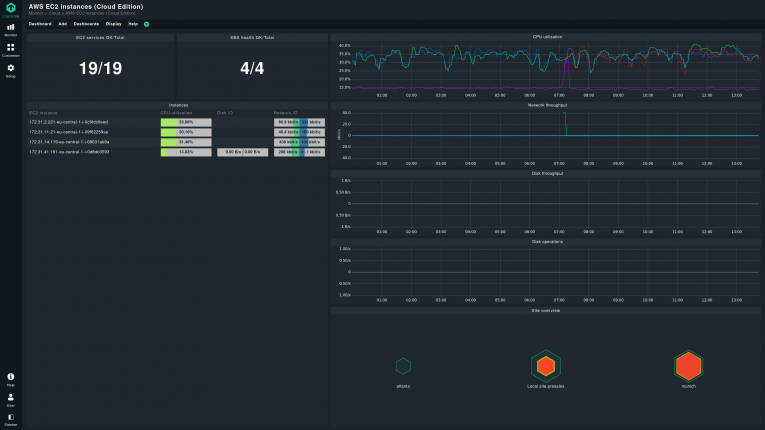 AWS services currently supported by Checkmk:
Azure Monitoring
Azure is supported by Checkmk in its most common services, including VMs, Blob Storage, MySQL and PostgreSQL databases, and load balancers.
Keep track of the health and usage details of your Azure cloud with out-of-the-box dashboards.
Identify services that perform suboptimally
Receive alerts when Azure workloads are failing
Visualize performance metrics across your entire Azure environment
Azure services currently supported by Checkmk:
GCP Monitoring
Effortlessly monitor a large set of GCP services with Checkmk 2.2.
Whether you are integrating GCP into your multi-cloud environment or switching to it entirely, Checkmk helps you achieve an optimal GCP setup.
Keep an eye on storage usage and its performance
Easily keep costs and health under control
Smoothly monitor complex cloud functions
GCP services currently supported by Checkmk:
A cloud-ready monitoring tool
Wherever you want to run your IT, be it in your data center, in the cloud or even both, Checkmk is a state-of-the-art software with many features that allow you to stay in control no matter what.
Pre-configured Azure and AWS images for secure usage, ready in minutes
Deployment of your monitoring in the cloud via marketplaces
Auto-registration of hosts and services
Host lifecycle management to keep track of any dynamic environments
Available on:
---
With Checkmk we have visibility and insight into the systems and applications that power our business. We know the lifecycle and usage patterns of our systems thanks to Checkmk and this is really a powerful feature when making important business decisions regarding these systems.
We do not have to guess, it is a matter of pulling up the right view or generating the report and looking at the details.
Trusted by global brands and local organizations worldwide
Ready to explore the full feature set of Checkmk?
Download the free trial and see it in action.