Database Monitoring with Checkmk
Complete monitoring of your database servers and databases – including availability, database and table size, cache ratios and many other metrics.
Monitor databases on Linux, Solaris, AIX, HP-UX, Windows, as well as OS-specific ones

Monitor from the 'outside' (via network ports), or from within (via the OS)

Monitor both on-premise, as well as vendor-specific cloud databases

Use preconfigured thresholds and shorten configuration time

Benefit from standard queries already implemented in the Checkmk plugin – no database know-how required

Use active database monitoring via custom queries where desired
Some of the vendors we support
Database Monitoring helps to ensure high performance
Checkmk enables you to see what's currently running on each of your database instances. Monitor database attributes that are critical to your business operations and visualize them on a custom dashboard:
Oracle – Checkmk supports oracle databases starting from version 10.2. Use it to monitor multi-tenant architectures, Exadata, container-based databases and much more.
MSSQL Server – Monitor MSSQL Server starting with Windows Server 2008 R2 and get detailed info on resource metrics (e.g. data and log files), performance data (e.g. cache hit ratio) and other parts of your databases.
MySQL/MariaDB – Monitor core performance and resource usage metrics (e.g. tablespaces).
SAP HANA – Get insights into the health and performance of your SAP HANA implementation. Troubleshoot issues quickly, before users are affected.
PostgreSQL – Perform a fine-grained monitoring of database activity by tracking what queries really do. Improve availability by monitoring instances, sessions and much more.
Cloud-based – With Checkmk you get immediate visibility into the performance of your Amazon RDS & Azure SQL Database instances.
Other databases – Checkmk also supports the monitoring of other database systems such as: MongoDB, IBM DB2, IBM Informix etc.
Oracle Database Monitoring
Use just one plug-in to keep an eye on your oracle databases and go beyond monitoring the basics (tablespaces, active sessions etc.), to get in-depth performance data for all your instances.
Checkmk provides comprehensive options for Oracle databases which cover:
Oracle Real Application Cluster (RAC) with and without Data Guard
Oracle Automatic Storage Management (ASM)
Oracle Wallet (allow user access without password)
Oracle DIVA
Oracle CRS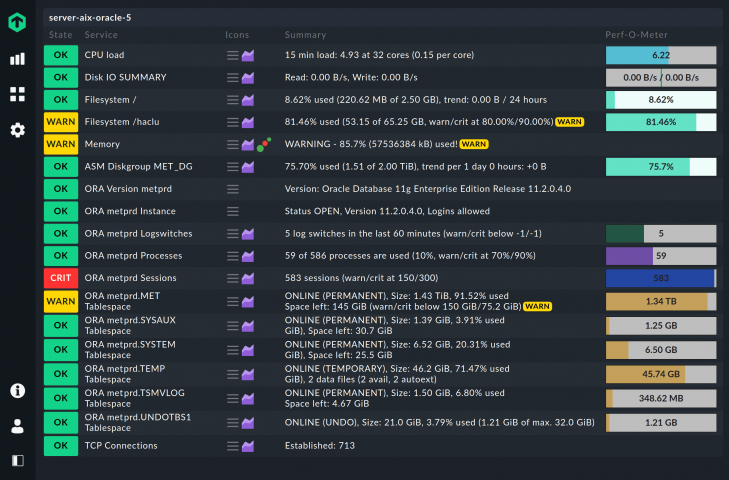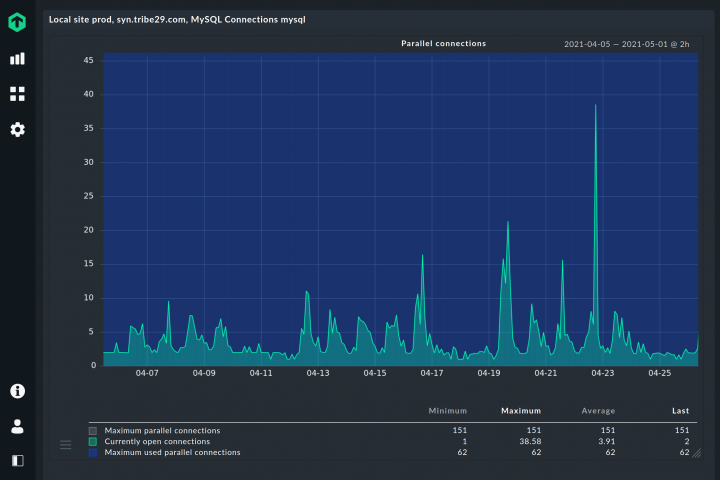 MySQL/MariaDB Performance Monitoring
Checkmk is a comprehensive and simple-to-configure tool used to monitor any version of MySQL/MariaDB databases running on Linux and Windows.
Among other possibilities, with Checkmk you can:
Monitor MySQL/MariaDB clusters, slaves and resource usage
Track the IO rate of the InnoDB database engine for MySQL
MSSQL Server Monitoring
Take a pro-active approach and optimize Microsoft SQL Server performance with ease. Streamline access by using 'trusted authentication', so no user/password needs to be created on the SQL Server instance.
Use separate services of backup type for each tablespace, and set specific levels for each backup type. Understand how application performance is affected by getting detailed info on metrics such as:
Locks per batch and locks per second
Cache hit ratio
Transactions per second
Size of data and log files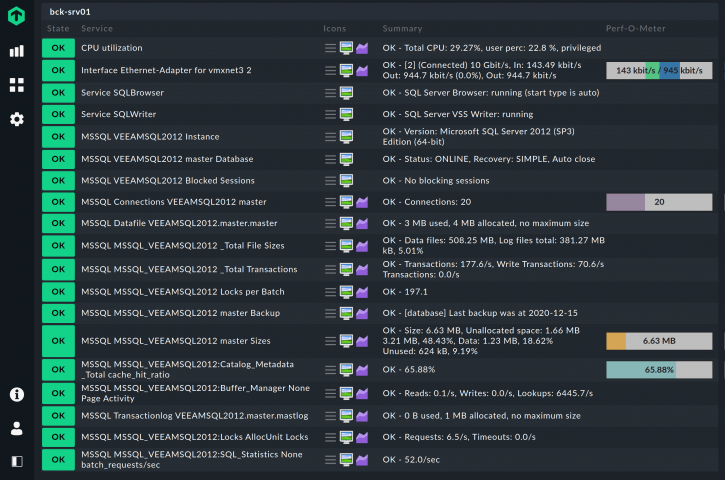 Reasons why Checkmk ist your database monitoring tool of choice
Auto-Discovery
Checkmk automatically detects and monitors your databases (no configuration overhead).
Increase uptime
Easily detect and solve database-related issues that impact application performance.
It's fast to get started
Checkmk enables you to go from zero to monitoring in less than 15 minutes.
---
With Checkmk we have visibility and insight into the systems and applications that power our business. We know the lifecycle and usage patterns of our systems thanks to Checkmk and this is really a powerful feature when making important business decisions regarding these systems. We do not have to do guess work, it is a matter of pulling up the right view or generating the report and looking at the details.
Trusted by global brands and local organizations worldwide
Ready to explore the full feature set of Checkmk?
Download the free trial and see it in action.