With the newly released Cloud Edition, Checkmk users enjoy even more flexibility and deployment options. The mission of the Cloud Edition is to be the monitoring tool for a hybrid world, and to provide a holistic view of on premises and cloud infrastructure. Cloud native deployment options, and with it the ability to more seamlessly integrate Checkmk with a cloud stack, are an important pillar in that strategy.
Starting today, the Cloud Edition is available on the AWS and Azure Marketplaces as an AMI and Virtual Machine, respectively. These pre-configured and pre-packaged software images can be quickly deployed to create virtual instances within user tenants. By utilizing these marketplace offerings, users can easily provision and launch virtual machines, saving time and effort in setting up and configuring the infrastructure from scratch.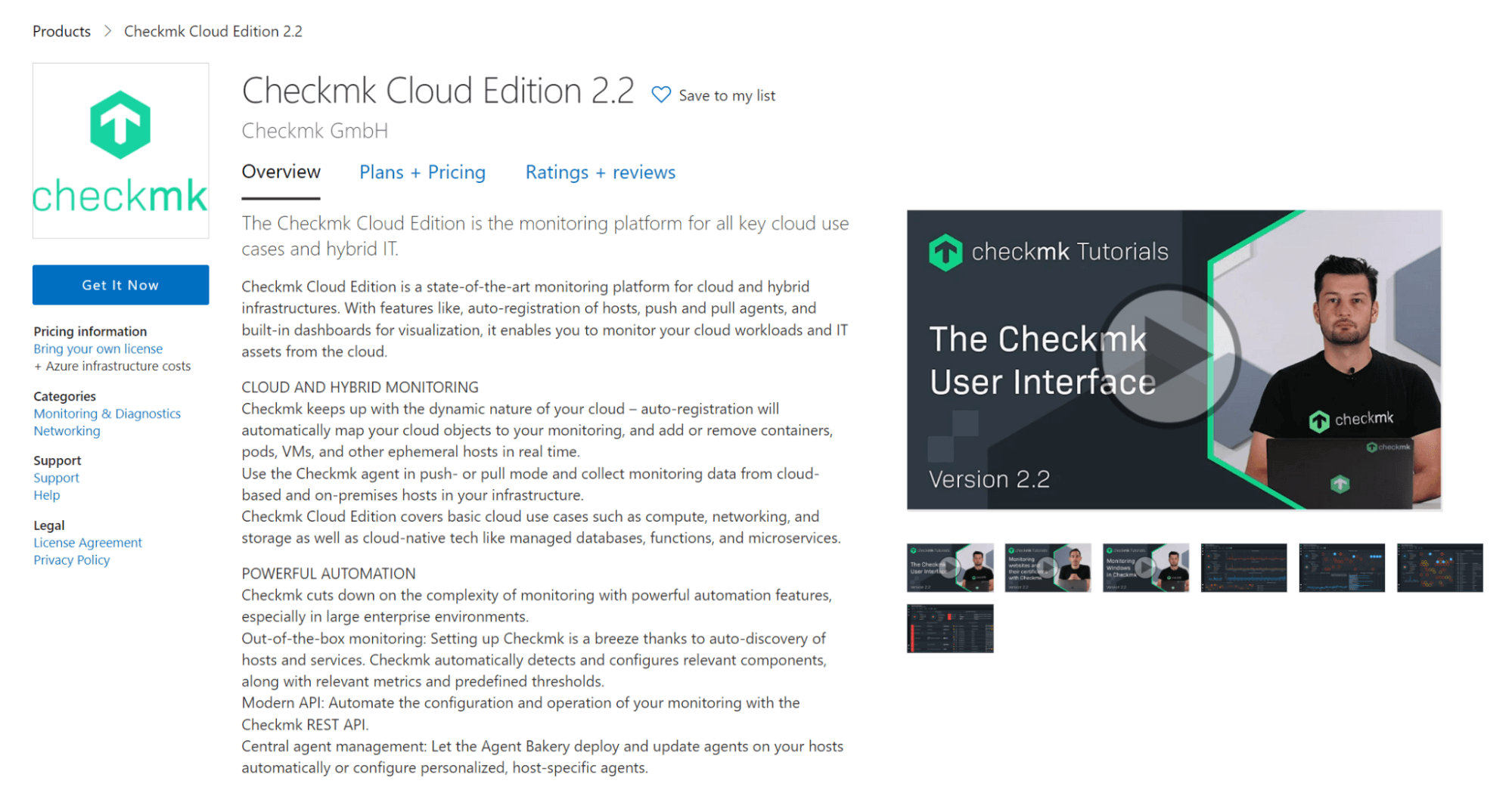 Use Cases
With the ability to natively run the Checkmk Cloud Edition in a cloud environment, it is now easier than ever to seamlessly integrate all aspects of your hybrid monitoring in one place. Cloud-based monitoring also allows for centralized management and monitoring of distributed systems and resources, making it easier to track and analyze data from multiple sources.
Benefit from the scalability in the cloud, and the ability to upgrade and adjust virtualized resources according to your needs.
Contract Options
We are offering both marketplace images with a 'Bring Your Own License' model (BYOL). This allows existing users to quickly deploy additional instances in the cloud while continuing to use their existing license. Users have full control over the resources dedicated to running Checkmk in their cloud environment.
This model also allows us to offer hassle-free, 30-day trials that work exactly like the one downloaded from checkmk.com. Simply deploy a new image from the AWS or Azure marketplace and start monitoring. The 30-day trial will start automatically.
Users can also continue using a Cloud Edition deployed from a cloud marketplace in Free mode indefinitely. Free mode does not require a license and is limited to 750 services and one site.
Marketplace users can avail of the same professional support and custom consulting services Checkmk is known for.
---