Despite competition from messenger apps, email is still one of the most important means of business communication. For this reason alone, the monitoring of mail servers is particularly important. As a matter of fact, the archiving of emails is often subject to legal requirements, and also should be monitored. In this blog post, I would therefore like to show you what you should consider when monitoring mail servers.
What are mail servers?
Mail servers provide services for receiving, forwarding, holding, and sending emails. At the heart of a mail server is the mail transfer agent. This service accepts the emails and forwards them to the correct recipient. Typical programs are Postfix, qmail, Exim, or Microsoft Exchange Server. A mail user agent or mail delivery agent is employed for sending the emails to the appropriate recipient. Mail filters and mail retrieval agents can also be part of a mail server.
Mail servers exchange emails via a variety of protocols such as POP3, IMAP or SMTP. Most mail servers also use mechanisms such as transport layer security (TLS) for authentication and encryption. This is particularly important for complying with data protection regulations such as the GDPR, since emails usually contain personalized information.
This belongs in mail server monitoring
The goal of mail server monitoring is to ensure that personnel can send and receive emails quickly. You also need to ensure that emails are properly archived and backed up. Therefore, it's important to monitor metrics such as your mail server's response times and to detect outages that may occur in the course of sending emails. You should also check mail queues so that they don't fill up. If a mail server cannot send emails, they will remain in the mail queue, which will continue to grow as a result.
Monitoring Postfix, qmail, Exim, Microsoft Exchange and other mail transfer agents is an absolute must for IT managers. In addition to availability and performance, it also covers important details, such as ensuring that mails are delivered and that emails are archived securely. Equally important is the monitoring of services such as POP3, IMAP or SMTP. If these services do not function properly, emails cannot be transmitted or stored correctly, for example. For this reason, the monitoring of mail servers is an important task for the server monitoring.
Checkmk provides official plug-ins for all popular mail servers and server services. Active checks for SMTP, POP3 and IMAP are also available. This allows you to set up precise mail server monitoring in a matter of minutes. In addition, Checkmk does not rely on email alerts. If your email communication breaks down, Checkmk can notify you of incidents via Slack, SMS, fax or by using another method.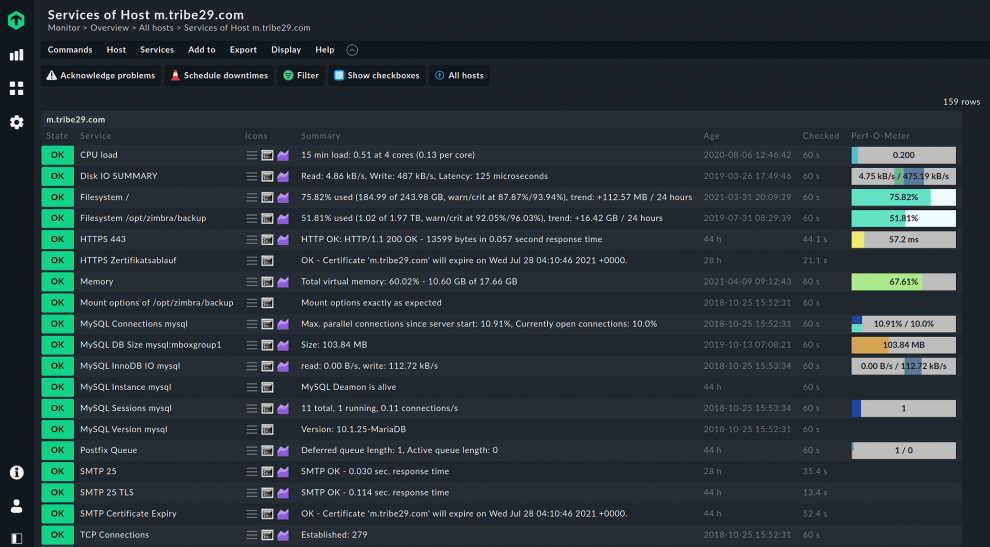 Checkmk is particularly well suited for the monitoring of Windows mail servers. Checkmk comes with a powerful Windows agent and eleven monitoring extensions solely for Microsoft Exchange. Checkmk also has integrations to Microsoft Azure and Microsoft Hyper-V. If, for example, you decide to move your mail servers to the cloud as part of your migration to Microsoft Office 365, you can easily adapt Checkmk to ensure uninterrupted monitoring.
With Checkmk's integrated graphing and reporting tools, you can reliably detect anomalies and critical events on your mail servers. The following graph from Checkmk shows the evolution of the mail queue in a Postfix mail server. With Checkmk you will be able to immediately detect when the queue is getting too long.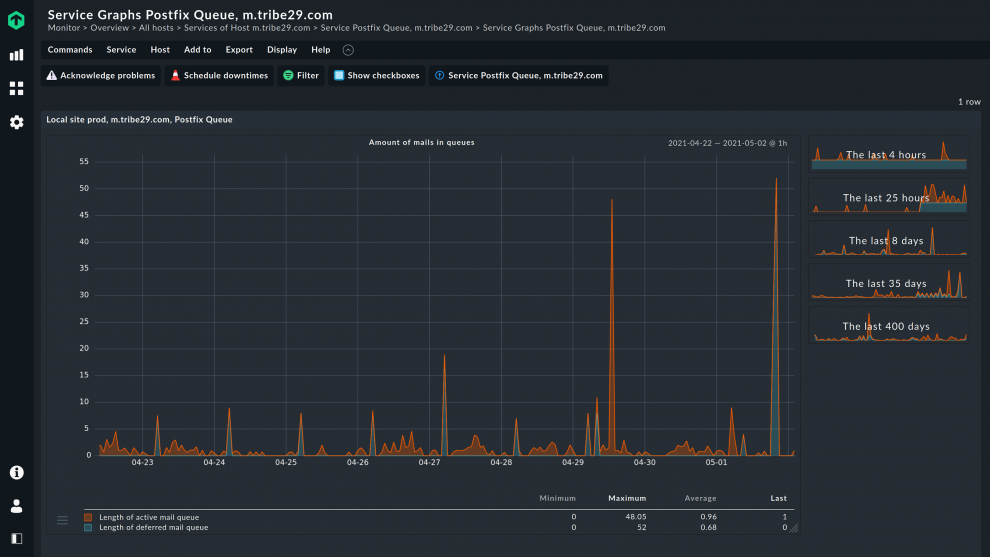 In addition, you can also track the effects of changes, for example, if you move mail servers to the cloud or have switched mail servers. By comparing the monitoring data, you will then be able to see whether your systems are working faster or slower following the migration, for example. You can also keep an eye on the validity of certificates at all times and detect if mail traffic is being routed via unencrypted ports. And of course, you can also encrypt the transmission of monitoring data to Checkmk.
---