NAS servers are popular because of their user-friendliness and are used in organisations of all sizes. For this reason, you should definitely consider NAS servers in your monitoring. In this blog post, I will explain what a NAS server is and how you can implement a comprehensive monitoring of your NAS servers with a few simple steps.
What is an NAS server?
NAS stands for Network Attached Storage and is the term used to describe storage that is connected to a network. NAS servers are a simple way to provide data storage capacity in a network available to other systems. As a rule, NAS servers have dedicated server hardware that is integrated into a local network as a storage device. NAS solutions are an alternative to Windows/Linux/Unix file servers. There are also virtual NAS servers. Many organisations, however, rely on NAS hardware servers to increase the stability and performance of their servers.
NAS servers are easy to manage, and entry-level models are relatively cheap to buy compared to other servers. For this reason, NAS servers can also be found in private use, for example as media servers for music and video files. Regardless of whether for home or business use, many manufacturers such as Synology, Seagate, Western Digital, QNAP or Netgear can provide ready-configured devices with pre-installed operating systems that you can operate directly following a few simple setup steps once the devices have been powered up.
If you want to implement a NAS server yourself, you can use operating systems such as XigmaNAS, TrueNAS/FreeNAS or ZyXEL OS. As a rule, however, you can use NAS servers that have already been pre-configured by the manufacturer. Protocols such as FTP (File Transfer Protocol), the Windows network protocol CIFS/SMB (Server Message Blocks) or NFS (Network File System) for Linux systems are used for communication with the clients.
In addition to the typical components such as the power supply unit, fans, CPU, RAM, hard disks, network interfaces and hard disks, NAS servers often have a RAID controller and several physical storage media installed. The exact specifications differ depending on the manufacturer and device type.
This belongs in NAS server monitoring
If you invest in dedicated hardware servers, you should always monitor them properly. Since NAS servers usually have several hard disks installed, for the purpose of monitoring it is particularly important to keep an eye on the hardware data. In practice, you will probably combine different hard disks into one or more logical drives. Only by monitoring the hardware data can you therefore check the condition of the hard disks. The file system of the operating system usually refers to the logical drive.
Particularly important for NAS servers are, of course, the condition of the hard disks. Besides the available hard disk space, a monitoring tool should keep an eye on the development over time and enable a forecast of metrics. This allows you to see, for example, if there were unusually large data movements at a certain point in time or if you should plan to purchase additional hardware, because you run out of empty space.
In addition, network connections, RAID systems, Ethernet ports and active tests of protocols such as Transmission Control Protocol/Internet Protocol should be part of your monitoring. With the right monitoring solutions, you can also check, if backups.
Checkmk has monitoring extensions that can monitor NAS servers via SNMP or IPMI for popular manufacturers such as Dell, Hitachi, QNAP or Synology. Some storage vendors, such as HPE, now provide data via REST APIs, which Checkmk also supports. With the appropriate monitoring extensions, Checkmk can collect the all the necessary hardware monitoring data and send them to the matching monitoring services. All set-up with just a few clicks and without lengthy manual configuration.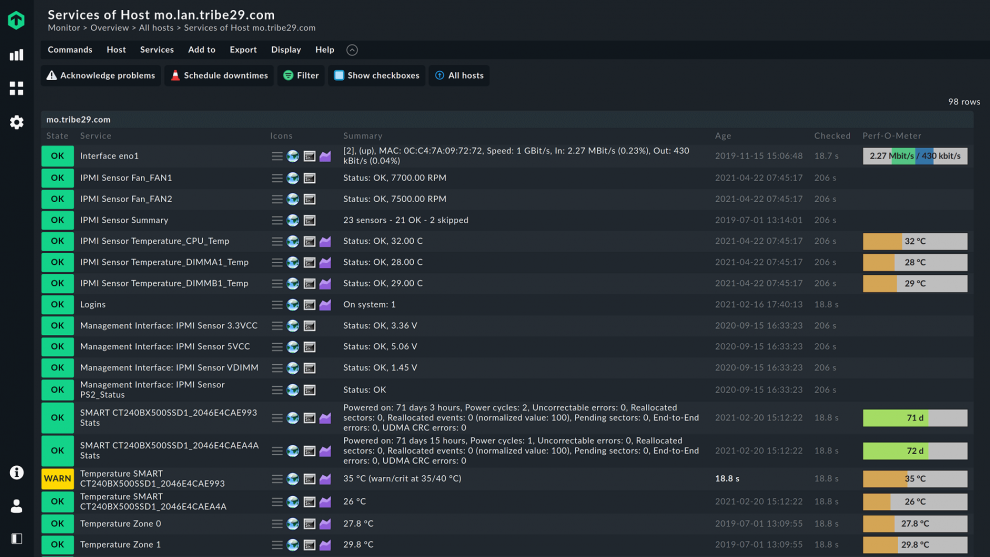 Especially in the case of NAS servers, monitoring agents are generally not an option as a data source, since NAS server manufacturers do not allow installation of monitoring agents on the operating system. However, most operating are based on Linux or Unix systems. If you have admin access to the operating system, Checkmk can monitor common systems like TrueNAS/FreeNAS with its agents. TrueNAS, for instance, is based on FreeBSD, and newer versions will be based on Debian 11.
At any rate, Checkmk's extensive support for SNMP or agentless interfaces saves you a lot of configuration work and ensures that you are not dependent on agent-based monitoring. If you have to configure the output of interfaces like SNMP manually in a monitoring tool first, proper NAS server monitoring cannot be accomplished with reasonable effort.
Checkmk also includes active checks for protocols such as FTP and CIFS/SMB. The Checkmk instance itself sends queries via the respective protocol and checks if the protocoll works as it should. In the monitoring, you can then either view the active checks as a monitoring service together with the monitoring data from other data sources all in one host or manage the each source as a separate hosts.
A mount check for all common transfer protocols is also integrated into the Checkmk agent. If you monitor another server with the Checkmk agent and it is mounted as a client to a NAS server which is also being monitored with Checkmk, for example, the agent can automatically check via the NFS mount check or the CIFS/SMB mount check whether the NAS server is actually accessible to the client.
Thanks to Checkmk's forecasting function, you can make precise predictions, for example on the development of your storage requirements. To do this, Checkmk uses complex analysis methods that support you in the capacity management of your hardware landscape.
---