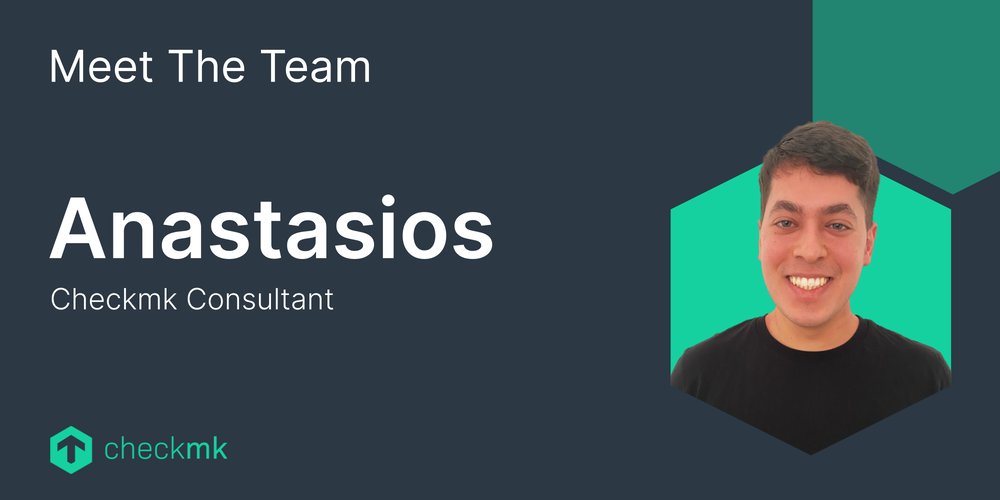 Anastasios Thomaidis
My name is Anastasios Thomaidis and since July 2020, I'm a Consultant at Checkmk.
What made you decide to start at Checkmk?
During my education at my former employer, I was using Checkmk and learned it on my own. Checkmk was also a part of my final exam.
I was responsible for all monitoring projects in the team, and I learned how important monitoring is. With Checkmk it was easy to identify problems we could not find before.
Monitoring was getting a more and more important task of my job and I could imagine to work at Checkmk to learn more about Checkmk, monitoring and the company behind this fantastic tool.
What fascinates you most about your job at Checkmk, and what are your tasks?
As a Checkmk Consultant, I have various tasks. Among other things, I'm responsible for:
Presales
Demo and best practices advices with potential customers
Supporting our sales team during a tech call with potential customers
Support
Solving tickets from the support queue, usually from Monday to Friday
Consulting
On-site or remote
Webinar
I'm doing the Configuration Options in Checkmk webinar twice a month
Knowledge Base
Adding new manuals to our public and internal knowledge base
So every day and week at Checkmk is very diversified, which I really like. I most like the conversation with our customers to see how they use Checkmk.
What tools/technologies do you work with in your team?
We get in contact with our customers in calls and meetings using tools as Zoom, TeamViewer, WebEx and MS Teams. Additionally, our customers can open tickets in Jira ServiceDesk.
Inside the team we communicate mostly via Slack, Pascom and Zimbra. Our internal documentations are based on Confluence and Dokuwiki.
Describe in your words the relationship between Checkmk and customers. What makes this relationship?
The conference and the partner day with a lot of after show events and the chance to get better in touch with all customers are an important part of our good customer relationships. We also try to get with them on a personal level during all our meetings and calls.
What is the special challenge at Checkmk?
It is a great and interesting challenge to learn new things with Checkmk, because the tool has so many possibilities, it is not possible to know all solutions for the occurring problems. Furthermore, sometimes special feature requests of costumers are happening and then one of the consultants needs to get in touch with one of our developers, and together they create a new solution and share it with the other consultants.
Explore open positions at Checkmk
We count on smart and innovative people who can help our customers become more secure and resilient.