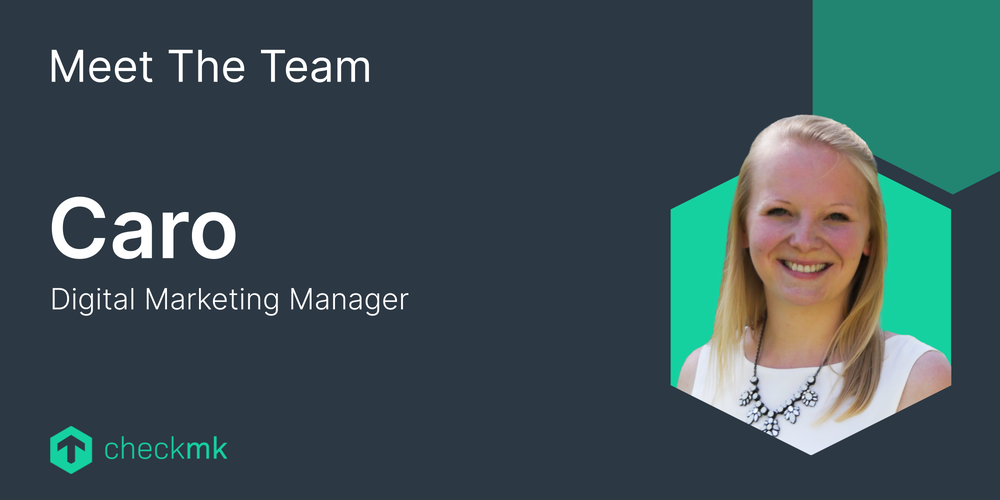 Caro Adams
Hi Carolin, it is a pleasure. You are with Checkmk since October 2020, starting in our Marketing Team as a working student, and you then had the chance to start as a full-time Digital Marketing Manager in March 2021 – you have been the first working students that we hired after finishing her studies. During that time the growth was noticeable, and you have become part of our new founded Performance Marketing Team together with Valentina and Juan.
Tell us a bit about your story with us.
It was almost two years ago that I was about to start writing my master's thesis – the last big milestone of my studies, and I was looking for a working student position to accompany that. I wanted to broaden my horizon and also gather more practical knowledge. Until that moment, I had never worked in a tech company before but had already gained some experience in B2B marketing, so it seemed like a good fit. After a very fast application process, I joined Checkmk towards the end of 2020 as a working student in performance marketing. As my time at university was over shortly after, I was offered the opportunity of joining the marketing team full time, which was great, because I liked the company and the tasks a lot. Now, almost 2 years later, I am still here and although my tasks have evolved in my time at Checkmk, I am still very happy.
What fascinates you most about your job at Checkmk, and what are your tasks?
Probably, the greatest thing about my job is how many skills I'm required to use. My tasks range on a very broad spectrum, so I am challenged in different ways. For example, one of my tasks is to manage our Checkmk webinars that offer an insight into our product. That is a very diverse task, as I use several tools for it, have to communicate with colleagues from different teams and coordinate a lot. At the same time, I'm also working a lot with our inbound marketing tool, HubSpot, to generate and nurture leads. For that, a lot of attention to detail is required, as well as the ability to understand the impact any change can have in our complex set-up there.
Last but not least, I am also managing the Checkmk presence on G2, which is a review platform for business software, where I am always required to think of new ways of how we can improve our position.
What does a work week look like for you?
As I am responsible for three very different topics, it always depends a bit on which one is currently requiring the most attention. This is always a bit different, so I can juggle them based on how much attention they currently. In a regular week, my day consists of a good mix of discussions with my colleagues and time that I have to work on my tasks by myself, I really like this combination. Most of the time, we offer two webinars per week, which then are fixed part of my week as I accompany all of them.
What tools/technologies do you work with in your team?
Next to the typical tools that we are using to communicate, like zoom, e-mail, slack etc., we use Google Workspace and Jira for collaboration which is really practical a lot of the times. In addition to that, we also have some tools that are specific for marketing. For example HubSpot, our inbound marketing tool which I already mentioned. Aside from that, we have tools for different use cases like tracking and reporting as well as to host our webinars.
What makes Checkmk so special?
To me, it is mostly the atmosphere that we have in the whole company but also in the individual teams. The way everyone works together creates in my opinion a very positive work environment. And you can learn a lot of new things simply by talking to your colleagues. At the same time, the relationship with the Checkmk users is also very special and very personal, which I like a lot.
Explore open positions at Checkmk
We count on smart and innovative people who can help our customers become more secure and resilient.