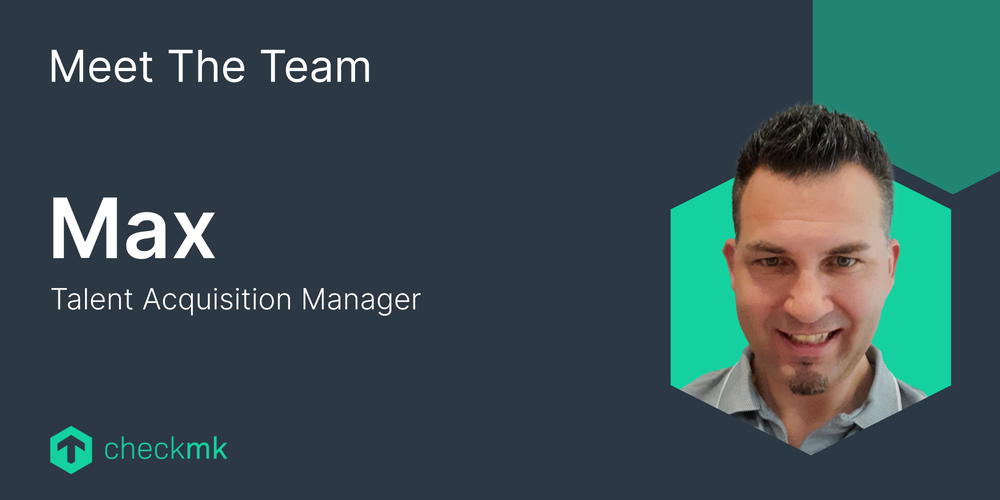 Max Reischl
Hi Max, thank you for taking the time to answer our questions!
What made you decide to start at Checkmk?
Since I already worked with Checkmk in my previous job, I have known the company for four years. I have seen that Checkmk sells extremely well, the company has very modern management views, is financially very well positioned and also has a very low fluctuation. You are not a number here, but a person. I also liked the fact that the employees are all very open-minded and honest, and that the internal atmosphere is very good. Other reasons were the flexible working hours, remote working and of course the very fair salary. In summary, you can say that you will find a very good mix here, which is probably rare in this constellation. As I have worked as a Recruiting Consultant before, I got to know many companies. Checkmk seemed to me to be way ahead in terms of the above-mentioned points.
You have recently joined us. How was the onboarding?
Very well! I found my way around very quickly and always received the necessary support right away. Even across departments and hierarchies, everyone here is really willing to provide support, share information, or even give insights into their area. The whole thing is also done in a very nice way. – Top!
What fascinates you most about your work at Checkmk, and what are your tasks?
The fact that I wanted to focus on people topics and that I can now live this 100%. In addition, the workload is easy to plan and also very easy to integrate into my family life.
Furthermore, I see recruiting as a very important area of responsibility, as this is where the foundation for the future of the company is laid. Being part of this decision-making process makes me very proud. It is a sense of achievement to help steer the growth at Checkmk.
I have a good mix of candidate work, administration, process issues, contract creation or changes, direct search, ad creation, communication with departments, meetings and training.
What does a working week look like for you?
I usually start each day with the e-mails, with the receipt of applications, as well as with rejections or scheduling of appointments.
Normally, I then conduct 2–3 interviews throughout the day. Of course, this requires some preparation and follow-up.
Between the appointments, I try to update myself with the departments and set specific blocks in which I prioritize and directly search for candidates and contact them. I also leave a free space in the calendar to cover daily To-Dos (contract creation, process maintenance, job advertisements or similar topics).
Of course, the week is rounded off with team meetings on Monday and Friday.
I work mostly remotely, but try to be in the office 1x a week.
What tools/technologies do you use in your team?
Currently, we are implementing Personio as an HR Tool. Other than that for daily communication and organization we use tools like Zimbra, Slack, Google, Pascom or the Office package.
Explore open positions at Checkmk
We count on smart and innovative people who can help our customers become more secure and resilient.