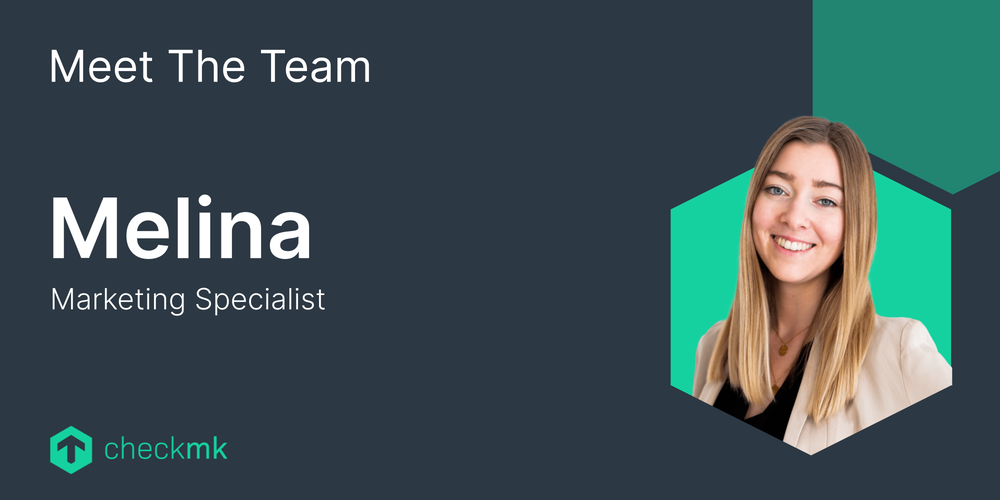 Melina Weide
Hi Melina, nice to meet you. You started in July 2020 with Checkmk as a Working Student in our Marketing Team and switched to a full time position after you finished your university studies in October 2021 as a Marketing Specialist.
Tell us a bit about your story with us.
Two years ago, shortly after the pandemic started, I was finding this new career opportunity on a job platform for young academics, where only the job description and no company names are shown. This ensured liking the to-dos and company values instead of applying biased by a big corporate name. And finally, this was the best decision as two years later I am still with the Checkmk and part of a big growth story.
What fascinates you most about your job at Checkmk, and what are your tasks?
My job is really versatile, it's never getting boring. New opportunities arise naturally because the management is listening to our ideas. The overall atmosphere in the Checkmk but also in the marketing team and with my manager is really on eye-level. The trust I receive is amazing, it's pushing me to the limit and beyond. Lately I've organized the annual user conference, the Checkmk Conference #8, for example. Besides, I am working on our rebranding.
Speaking of the conference, where you did a really great job: How exactly was it to organize Checkmk Conference #8 as a hybrid conference after two years online?
Leading the conference planning was my first big challenge as a full-time employee at Checkmk that demanded lots of dedication and management of all insights, wishes, requests and tasks of the other departments. The most beautiful about this big project was to finally see everything working out and in place at the venues after having spend more than half a year of planning all the details. I can proudly say that the Checkmk Conference #8 was a huge success and great company gathering on top.
What does a work week look like for you?
Typically, we work in two-week sprints in the marketing, which provides the rough structure for the week. Latest my day starts with our daily at 09.30 AM which is a short meeting with the team to exchange on current tasks in progress so that everybody is kept in the loop. But first, coffee. Afterward, everything can be managed, be it in the office – be in working remotely. The good thing is, every week is different but previously structured thanks to our sprint plannings.
What tools do you work with in your team?
The marketing team uses tools depending on their skills like the creative colleagues using the Adobe programs or the performance team dealing with HubSpot, Google Analytics, etc. Everyone in total uses a few common tools though to collab:
Slack to communicate in direct message and channels cross-teams, reducing emails
Zoom for video meetings
Jira for ticketing and scrum planning
Miro for hybrid meetings to plan, brainstorm, visualize
What makes Checkmk so special?
The Checkmk is not just our company name, it's a feeling. While we are growing heavily, and new colleagues are joining every month, which makes it hard to keep track sometimes, the belonging and togetherness does not suffer. Support is always around the corner, no matter what is needed. This allows the agility we have in our company due to re-prioritization, if necessary. Besides, targets are set for the team and the company rather than for individuals, pushing collaboration and team spirit.
Explore open positions at Checkmk
We count on smart and innovative people who can help our customers become more secure and resilient.