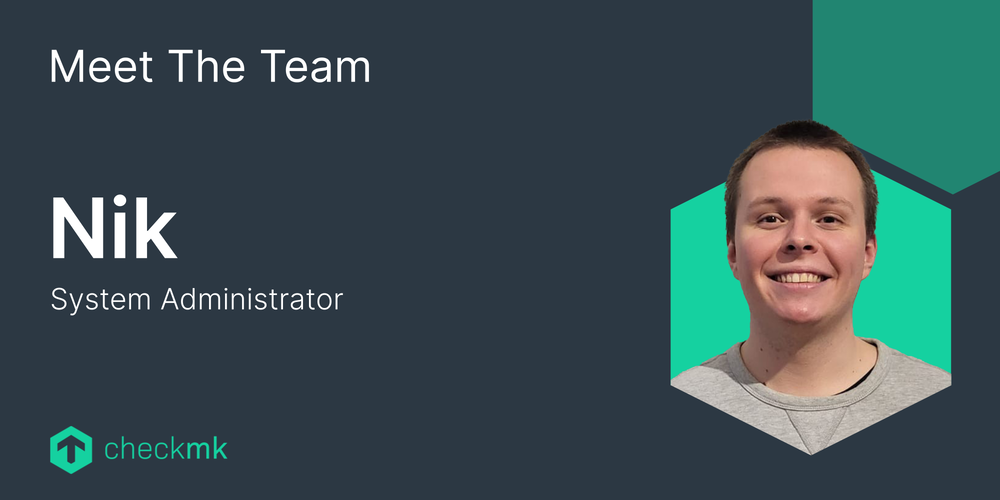 Nik Buckau
Hi Nik, thank you very much for taking the time for the interview!
What made you decide to join Checkmk?
One of the main reasons why I started at Checkmk was the first interview. The IT team kept the interview "down to earth" while asking all the essential questions. It felt like a small information exchange where I could prove with my own projects/ideas. This "down to earth" behavior is also present everywhere in the company.
What fascinates you most about your job at Checkmk, and what are your tasks?
The spectrum of tasks is very interesting. User administration and hardware management, scripting and automation are part of it, but also implementing patch/threat management by own ideas or creating IT security concepts.
What tools/technologies do you work with in your team?
Ansible, opnsense, Manage Engine, OpenLDAP, BookStack, Proxmox, Oxidized, Gerrit, Microsoft Azure and Amazon Web Services.
What is most important to you in your work life?
For me, it is important that I can spread myself in many directions. The variety of tasks makes it exciting for me. Although there are standard tasks, I never feel like I'm doing the same thing over and over again.
What do you think makes Checkmk or your team in particular special?
The communication at Checkmk is very direct and open. Everyone is on a first name basis, but still treated respectfully. In some companies, you feel like you are not part of the company without being on a higher level. Here, many decisions are decided publicly.
What I really like about my team is that we have a lot of fun and laugh, yet are very determined to move forward. Even in stressful situations, I am never afraid to ask someone for help. This makes it easy for me to learn a lot.
Explore open positions at Checkmk
We count on smart and innovative people who can help our customers become more secure and resilient.