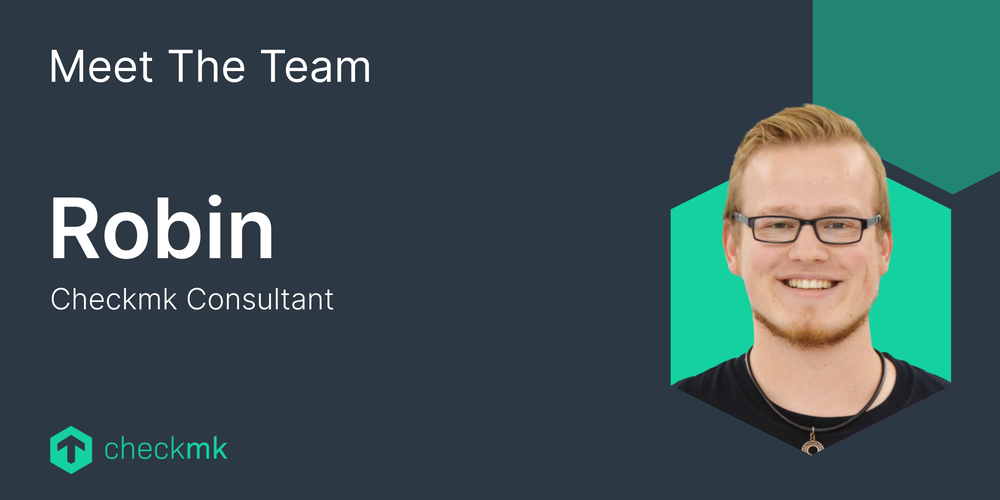 Robin Gierse
Hi Robin, thank you for taking the time. You have known our product for a long time and decided to switch from the customer- to the supplier side at the end of 2021 – which we are very happy about.
First of all: Please tell us a bit about yourself.
Hi, my name is Robin, I live in Cologne and work as a consultant for Checkmk.
Besides Checkmk I'm passionate about movies and series, space travel and whiskey.
When it's time to go out, I love to inline skate and go to the movies with friends.
What made you decide to join Checkmk?
I got to know Checkmk at my first employer. There I was allowed to set it up with the support of Alex W., where I had my first contact with Checkmk – which wasn't called that at the time. At that time, however, I was still very happy where I was. After a first job change and the introduction of Checkmk there, I realized that I wanted to do more with this tool. So I decided to apply and here we are.
In hindsight, I can say what made me start at Checkmk was the personal challenge and the enthusiasm for the product, I stayed because of the company culture, the people and my exciting field of work.
What fascinates you most about your job at Checkmk, and what are your tasks?
I support customers every day with questions, problems and projects around Checkmk. This starts with prospective customers who want to get to know our product better before they sign a contract, continues with support – i.e. when something gets stuck – and ends with consulting, where I sometimes spend several days at a time advising and actively supporting customers in setting up and configuring Checkmk.
I'm fascinated by the diversity of these tasks, the people you meet, the challenges they face, the technical peculiarities and the fact that I learn something new every day. In addition, there are cross-sectional tasks where I support internal projects, for example with our development or marketing.
What does a working week look like for you?
It really depends on what I'm doing. When I'm on support, a week looks pretty much the same, because you spend the whole day doing your best to solve customers' problems quickly and successfully. In presales, it depends on how many requests come in. Sometimes I have time here for cross-sectional tasks, but sometimes it's from customer appointment to customer appointment. And in consulting, I'm often at the customer's site all week long – physically or mostly virtually.
What tools/technologies do you work with in your team?
There are quite a few. First, and most importantly for me: We work on Linux laptops – unless otherwise requested – which makes my daily work a lot easier. In addition, many tools are now web-based, so the main tool is definitely the web browser. But of course, we also use a whole handful of communication tools – both internal and external – to communicate with customers and employees.
Describe in your words the relationship between Checkmk and customers? What makes up this relationship?
That was the biggest change for me, even if it was the most welcome one: customers are called by their first name. I had to get used to this with existing customers, but now I offer it to customers in the presales phase. And that's what makes it work for me: We treat our customers as equals. Our interaction is based on respect and appreciation; we take our customers first, but they also take us seriously. This creates a climate in which we always work together with our customers in a fulfilling and successful way, even in tough times.
Is there anything that currently bothers you about your job?
Anyone who says they have the perfect job is lying. There are always stones of contention. It could be disagreements with colleagues, it could be a management decision that you're not happy with, or it could be a customer who spontaneously forgot to treat you with respect today.
But none of these possibilities have happened for me yet. I can honestly say that, as I write these lines, there is nothing serious that bothers me about my job.
Okay, maybe there is one thing: When colleagues bring cakes or cookies to the office, I never get any of it. After all, my office is almost 600 kilometers away. 😉
Explore open positions at Checkmk
We count on smart and innovative people who can help our customers become more secure and resilient.