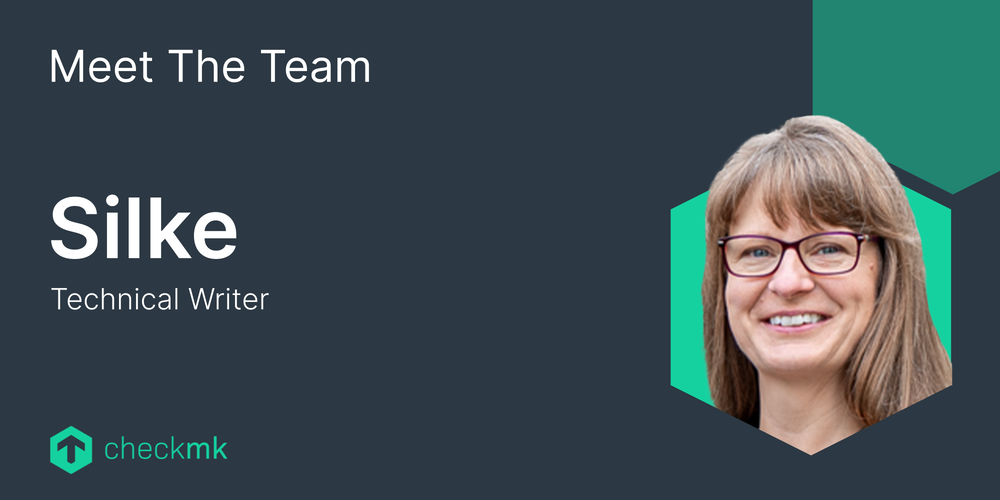 Silke Paintner
Hi Silke, thank you for your time! You have been a member of our Knowledge Team since November 2021 as a technical writer, primarily responsible for the manual.
What made you decide to join Checkmk?
After ten years in my previous job, I had the feeling of being stuck and just going around in circles. I wanted a new challenge and the opportunity to develop myself further. The Checkmk homepage and manual immediately appealed to me. The style was so relaxed, brisk and modern – and that's how I experienced my contacts during the interview rounds.
After running purely on Windows in your previous environments, you were now faced with Linux. How did the switch go for you?
The first few weeks were challenging. Linux works completely differently than Windows in some respects. In my second week at work, I was sent to the Checkmk training course, where I suddenly had to enter commands on the command line. I had to struggle with that. The online course for Linux basics that came after that helped me a lot. But above all, all my colleagues supported me right from the start and answered my questions patiently – and that hasn't changed since.
What fascinates you most about your job at Checkmk, and what are your tasks?
I describe the many functions and possibilities of Checkmk in the manual. And that as understandable, comprehensible as possible. The texts should be suitable for every version and every reader. For me, this is also the great attraction of the manual work. To express oneself in an elitist and incomprehensible way is not an art. The challenge for me is to express sometimes highly complex contexts in such a way that as many people as possible understand them and can use them in their working environment.
Since we work according to the four-eyes principle, I also proofread the texts of my team colleagues again and again and check them for comprehensibility, completeness and up-to-dateness.
What does a work week look like for you?
I work part-time and usually start around eight in the morning, checking news and finding out what's currently on the agenda. Then I write a new article, revise an existing manual section, or proofread texts from my teammates. We have a short daily status meeting that splits my morning, so I usually work on two different topics before and after – it clears my head and changes my perspective. Since some team members only work afternoons, I'm working full time once a week, usually from the office. Then there are additional meetings and the weekly review "in the big round" in my calendar.
What tools/technologies do you use in your team?
The daily communication is mainly done via Slack. For writing, we use Visual Studio Code and Git. For me, Gimp is still a great tool to create screenshots. And, since we're not all in one location, meetings run via Zoom. We use Jira to plan and distribute the various tasks across the team.
In your own words, describe the relationship between Checkmk and its clients? What makes this relationship so special?
In my area of responsibility, there is currently no direct customer contact. Therefore, I have only met customers at the Checkmk conference so far, but I liked the tone from the beginning. Everyone is open and friendly, and the general "Du" reinforces the feeling of a large community.
What makes Checkmk so special?
How can I describe it? Checkmk is so fundamentally different from the companies I've worked at before….
Team here doesn't mean "Toll, Ein Anderer Machts" ("Great, someone else will do it"), but really that people tackle things together. The interaction with each other is relaxed and familiar, yet productive. Everyone treats each other as equals, from working students to company management. With regular team events, both in the group and company-wide, everyone is valued, involved from the start and continuously motivated. Although I'm still new, my opinion is asked and my voice is heard.
Explore open positions at Checkmk
We count on smart and innovative people who can help our customers become more secure and resilient.