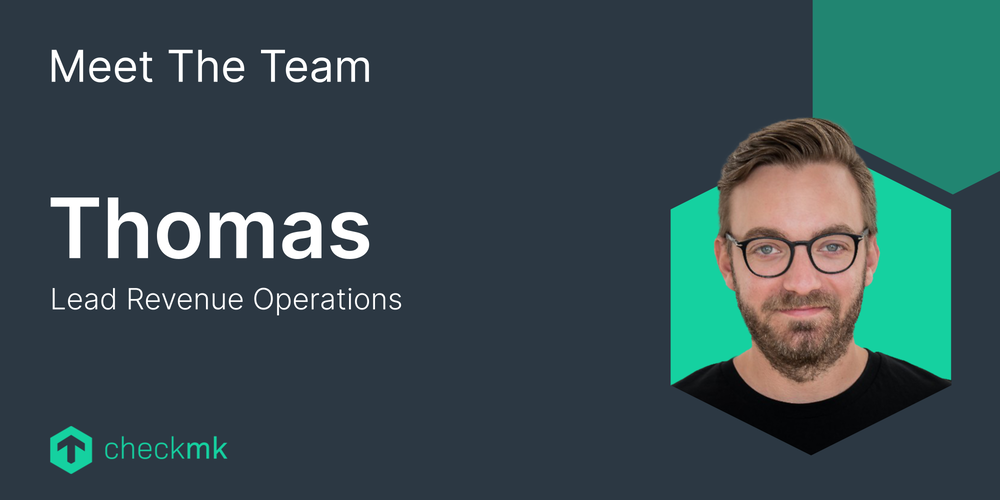 Thomas Rauscher
Hello Thomas! Since your calendar is always quite full, we are even more pleased that you took the time. You're almost an "old hand" by now (in terms of being part of Checkmk 😉). You started as Manager Strategy & Analytics in December 2019 and are now leading the Revenue Operations team.
What made you decide to join Checkmk?
In addition to a strong product and a unique spirit in the company, I was particularly attracted by the growth potential. In such an environment, exciting challenges and interesting creative opportunities inevitably arise.
What fascinates you most about your job at Checkmk, and what are your tasks?
As Team Lead Revenue Operations, we take care that we modernize our commercial tool and process landscape and thus make the workflows more efficient so that especially the sales department has more time – to better take care of our customers. The thing that fascinates me most about this job is the breadth and depth of this field. We work on every product category from lead handoff by the marketing team to handoff to the accountant. We are involved in all fields, whether legal issues, work organization, technical interfaces in peripheral systems or tax challenges. So my colleagues and I probably have the deepest insight into how our sales machine runs.
What's a work week like for you?
There is actually no such thing as a typical working week. Every day is different and has a different theme. I spend a relatively large amount of time coordinating and aligning decentralized teams and ensuring that systems and teams interlock at all levels, from IT infrastructure to the actual application. In addition to the multitude of content-related issues, I also deal with management issues at team and company level.
What tools/technologies do you work with in your team?
We work purely Jira-based. That's the linchpin of what we do. We communicate almost exclusively via Slack and Zoom. For our tool stack we use Checkmk, GitHub, Jenkins, ELK-Stack and weblate, among others. When we customize processes for ourselves, we – like Checkmk itself – work primarily in Python, JS, and HTML.
You still had the pleasure of starting at normal times. How was the change during Corona for you?
The changeover went relatively smoothly. Since we were already working in a decentralized setting – even before the crisis – not too much changed. The biggest challenge in such a setup is certainly to integrate new colleagues into the team.
You are now responsible for 3 colleagues in your team and have many interfaces within and outside the company. What has been important to you here so that the introduction of new colleagues and new service providers runs smoothly?
From day 1, I've tried to make onboarding the highest priority in the day-to-day, sharing all the knowledge I've accumulated so far as best I can and making colleagues actionable. We frame the week with a Zoom-based duo of checkin and checkout. In the checkin we plan the week, in the checkout we take time to reflect on what went well and what didn't go so well. This gives us a fixed point each week when we can learn and improve as a team. In a distributed setup, we value transparency and accessibility. The quick consultation over the table no longer exists and takes place via Slack. Of course, this only works if the response times are similar. Overall, however, we have found a good mode that works well for the team and the task.
What makes your team stand out?
The RevOps team is bursting with energy and drive for positive change. The characters that have come together here complement each other, so that everyone can play to their strengths. Despite all the pressure to deliver results, it is always clear to everyone that we are human beings, that there is a reality outside Checkmk that can also take on a higher priority and that the fun and joy of the activity must never be neglected.
Explore open positions at Checkmk
We count on smart and innovative people who can help our customers become more secure and resilient.