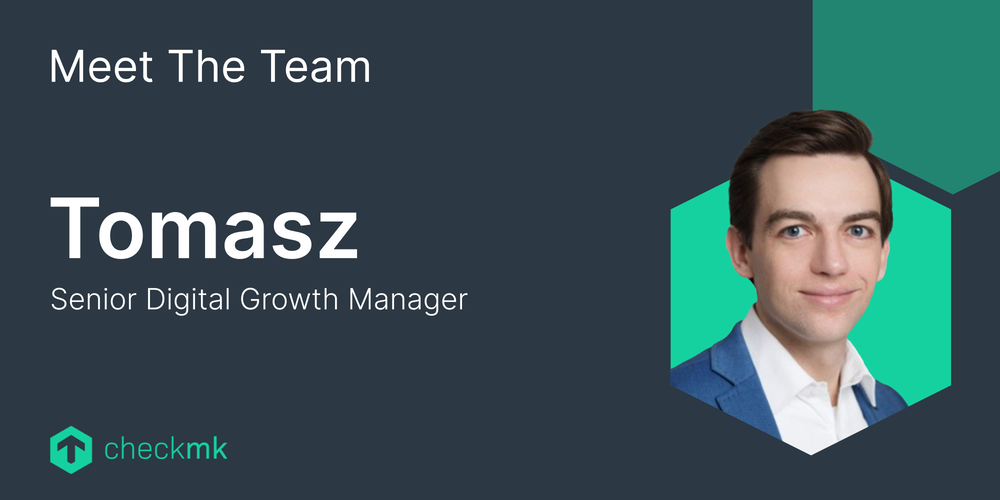 Tomasz Gambus
Hi Tomasz, thank you very much for taking the time for the interview!
How did you come to Checkmk?
When the pandemic created new remote work opportunities, I made a new year resolution to take this chance and find a new professional challenge outside Poland. A few months later Valentina, the Lead Generation and Marketing Manager at Checkmk reached out to me on LinkedIn, and this is how it has started. I loved the product and the people I met during interviews. I felt like Checkmk was a perfect place for me.
What is your job at Checkmk?
Increase sales, especially from the US market, by launching digital campaigns across all available marketing channels. It sounds simple, but this requires a holistic approach, because first we need to build brand awareness, then influence potential customers to consider Checkmk as the monitoring solution, and nurture they to make them ready to buy. Close cooperation with sales and content teams are a key.
What does your working day look like?
I can start my day after bringing my kids to the kindergarten, which is a quite challenging process of waking up, eating breakfast, getting dressed and never ending negotiations. I usually start with reviewing my projects lists to select tasks to deal with the current day. Thanks to the daily updated lists and daily prioritization process, the day is much more effective. To deliver any marketing project, I need the support of many other people from our organization as well as from an external agency. Most of the collaboration can be done on Slack and Google tools. I am trying to limit online meetings to minimum to make enough space for effective work on my digital projects. When I feel tired, I take a short break, and change the task to keep my performance high. Again, it sounds easy, but it took me almost 3 years to learn how to be productive and creative, when working remotely.
We are of course particularly interested in how working remotely from Poland looks like. Can you tell us a little about that?
I live in Cracow, a beautiful and vibrant city. All the services and shops I need are no more than 10 minutes from my home, so I almost don't use my car and don't waste time commuting. But when you work remotely, you can choose whatever place, where you feel good. The biggest advantage of living in Poland is relatively low cost of living. It gives you more opportunities and financial comfort. If you are a remote worker in a city like Cracow, you can decide to work from home or in one of many co-work spaces, very popular here. The only drawback comparing to Munich is the much smaller variety of the restaurants, which means that if you don't cook on your own, your lunches may be quite boring.
How would you describe the communication and organization with your team in Munich/Germany?
Due to distance between Cracow and Munich, I can't work in a hybrid model. Collaboration tools like Slack or Zoom are enough to keep moving forward with ongoing projects. But personal and deeper relationships move the collaboration to the next level, which is why I am trying to visit the Munich office once per quarter to spend the time with my teammates and build the connection with other teams. I am extremely happy that there is a space for informal virtual meetings like coffee chats, virtual lunches or team-building activities. Thanks to that, I feel connected to the organization and my social life doesn't suffer because of the remote work.
What is the biggest challenge of the remote work for you?
The obligatory work from home policy was introduced two weeks after my daughter was born, meanwhile my son turned two. To put it mildly, it was a distracting working environment. Despite some time has passed already since then, it is still a challenge for me to organize a family life in a way, that will allow me to use the most productive time during the day for work. But on the other hand, spending more time with the kids is a great creativity booster.
Explore open positions at Checkmk
We count on smart and innovative people who can help our customers become more secure and resilient.