These days, most organizations rely on a hybrid IT infrastructure and use the services of public cloud providers in addition to their own on-premises systems. Cloud infrastructure is more scalable and easier to adapt to your company's needs. Nevertheless, you should always monitor all parts of your infrastructure. Especially when migrating servers to the cloud and operating hybrid infrastructures, organizations sometimes underestimate this aspect. In this blog, I would therefore like to show you what you should consider when monitoring cloud servers.
What is a Cloud server?
Cloud servers are a special type of virtual server. A cloud service provides the functions of a server, but the underlying hardware platform is usually invisible to the user. The physical basis and the management of the resources are the sole responsibility of the cloud operator.
Cloud servers are usually purchased as a service from public cloud providers such as AWS or Microsoft Azure. Billing takes place based on various criteria, depending on the server package booked, for example according to the number and utilization of the CPU cores. Large cloud providers in particular offer a wide range of cloud server services – from solutions in the area of Infrastructure-a-Service (IaaS) to scalable server computing power and complex application servers as Software-as-a-Service (SaaS).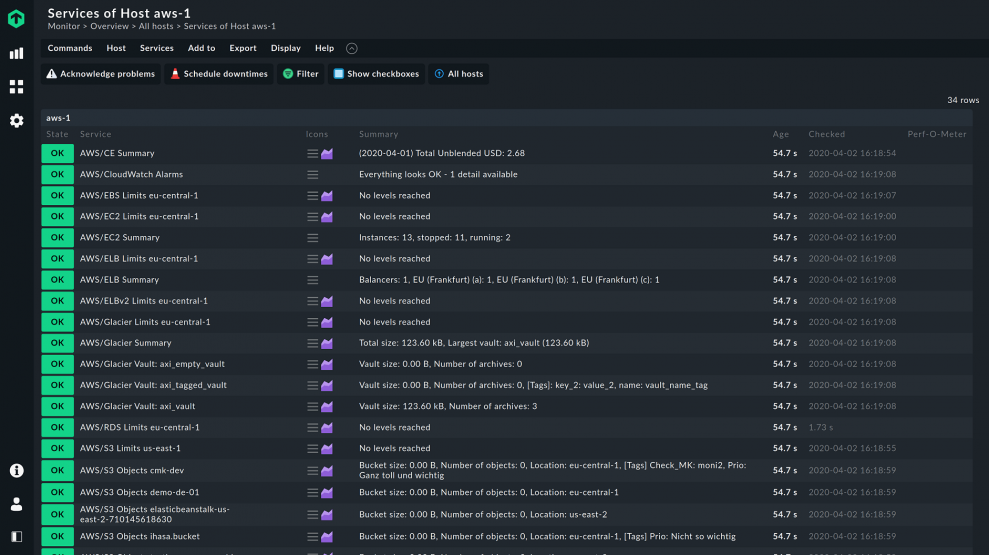 Very few organizations rely on a purely cloud-based infrastructure, and usually continue to operate their own network systems and on-premises servers, but outsource individual servers to the cloud. Therefore, it makes sense not only to monitor the costs and service level agreements (SLAs) of the cloud provider, but also to keep an eye on the interaction of the cloud servers with other systems in their own network. It is thus important that a monitoring tool enables the monitoring of such hybrid environments.
This belongs in cloud-server monitoring
You should always monitor your cloud servers to ensure optimal performance of your systems. Most cloud providers collect monitoring data and make it available to monitoring tools via APIs. You should be able to use the information from these interfaces and put it in context with monitoring data from other systems. The on-board tools of cloud providers are usually of limited help here since these are focused solely on the provider's own systems. However, the contextual information is always particularly important in cloud monitoring.
For this reason, it makes sense to use a monitoring tool that is optimized for both hybrid infrastructures and server monitoring alike. Additionally, with the right monitoring tool, information once retrieved is available to you indefinitely, whereas cloud providers usually only store it for limited periods of time.
Uniform monitoring of multi-cloud environments is also important, for instance if you use cloud server solutions from multiple cloud providers. A monitoring tool should therefore be easily expandable to accommodate new cloud providers and already support common providers such as AWS and Microsoft Azure. This way you have all systems in one tool and don't have to switch between different monitoring interfaces.
Checkmk features several integrations for the various services from AWS and Microsoft Azure. These integrations allow you to retrieve all desired information and transfer it to your own monitoring with full cost control. This means that you have all nodes and servers from your cloud environments in an easy-to-understand host-service structure in Checkmk.
For the monitoring, you only need to install the respective Checkmk special agent on your local monitoring instance and activate access to the cloud provider. With Microsoft Azure, for example, you can do this by registering Checkmk as an app. After that, the configuration in Checkmk only takes a few minutes. The architecture of the Checkmk special agents is designed for flexible expansion. Our Checkmk developer team is also continually extending the range of supported cloud monitoring packages.
In addition to the agents and plug-ins designed specifically for AWS and Microsoft Azure, Checkmk comes with many sophisticated features to make cloud monitoring as easy as possible for you. Just like monitoring virtual server environments, you can automate host management with the Dynamic Configuration Daemon (DCD). For example, when monitoring Microsoft Azure, Checkmk helps you to match the query intervals to Microsoft's rate limit so that you don't exceed the limit of allowable data queries. With AWS, for example, you can also precisely adjust the queries so as not to burden your cloud budget unnecessarily.
---