Monitoring print servers provides an opportunity to increase the efficiency of the printing services, minimize delays and reduce running costs.
Today, print servers have become standard features of network and multifunction printers. As such, most IT environments will have one or more print servers. And this helps the users to improve efficiency and minimize wastage. However, while the print servers keep logs of the usage, they require proper monitoring to enable the company to optimize the services.
Without proper tracking and controls, users can misuse the service by printing unnecessary documents. In addition to increasing the running costs, this will also delay the printing of important documents.
As such, monitoring a print server is something that organizations of all sizes should implement as part of their server monitoring system, even before using print fleet management solutions. In this blog, I will show you how to monitor your print servers properly.
What is a print server?
A print server is a utility for managing and sharing a printer on a network. It can be in the form of software running from a computer server, or a hardware add-on built into or attached to the printer.
Hardware manufacturers such as Linksys, IOGear, and others provide small, external print servers you can attach to the printer via USB, LAN, or other interfaces. However, for a large environment requiring more flexibility and control, you can set up a print server as an application running on Windows, Linux, or UNIX.
The choice of the inbuilt or centralized print server depends on a variety of issues. For example, the inbuilt print servers will only manage particular devices. As such, when there are many printers, managing each of them separately can be complex and inefficient.
On the other hand, running print servers from central servers or dedicated computers enable admins to easily monitor and control multiple printers from one place.
How to control print jobs
During operations, a printer and plotter receive the print jobs from the print server, which also eases the administration of the devices and print job queues.
Administrators can use them to assign jobs to individual printers according to specific rules. For example, it can automatically send a print job to the printer that is easiest for the employee to reach.
In environments with multiple printers, it is essential to ensure that people send their documents to the right devices. If not well managed, users may send their documents to other devices, and this has risks such as sensitive information falling into the wrong hands.
Also, the employees will waste time looking for their printouts from one printer to the other and at times may be forced to reprint the document, hence wasting time, paper, and toner. For these reasons, it is important to deploy a monitoring tool in your organization.
How do I monitor printers on my network?
Monitoring the print servers enables you to see a wide range of logs, including the number of print jobs, the print queues, errors, as well as consumables reports.
For example, it allows you to determine if there are too many print jobs in the queue, see the unprocessed jobs if there is low toner or no paper as well as whether the device is defective.
If employees have to wait unnecessarily long for documents to be printed, it means delays and low work efficiency. Generally, you can use software to manage the print jobs, see reports, and perform real-time tracking, set rules, and more.
Print server monitoring options
Many printer manufacturers supply their monitoring tools. However, these have various limitations and are costly to operate, especially when there are many different types of printers.
One of the best strategies is to deploy a universal monitoring tool such as Checkmk that supports a wide range of printers and is flexible and scalable.
Checkmk offers several options for monitoring print servers. For Linux and UNIX servers, there is an agent plug-in that can monitor the printer queue by requesting the necessary data via the Common UNIX Printing System (CUPS). There is also an agent plug-in for Windows that transfers the data from the respective Windows service to the monitoring system.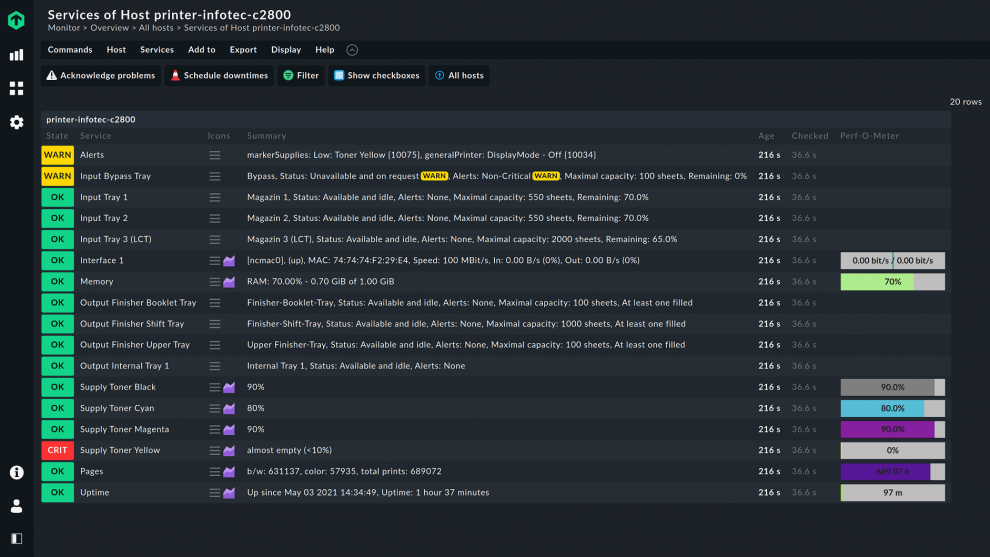 Checkmk enables you to automate the monitoring of the print servers, hence saving time and costs. The powerful tool is suitable for any type and size of an organization, including those with complex IT infrastructure. Additionally, it comes with SNMP plug-ins for monitoring print servers from various manufacturers.
There are also manufacturer-specific plug-ins for the direct monitoring of the printers. For example, for Canon, Zebra, and Ricoh, Checkmk not only checks the status of print jobs, but also more details about the status of the paper supply, and consumables such as ink or toner.
---