Checkmk
Manages Services
Monitor your customers' hybrid IT infrastructures
The Checkmk Enterprise Managed Services Edition is specifically designed to support IT service providers in ensuring high-quality services level agreements and proactively detect issues within customers' IT infrastructure.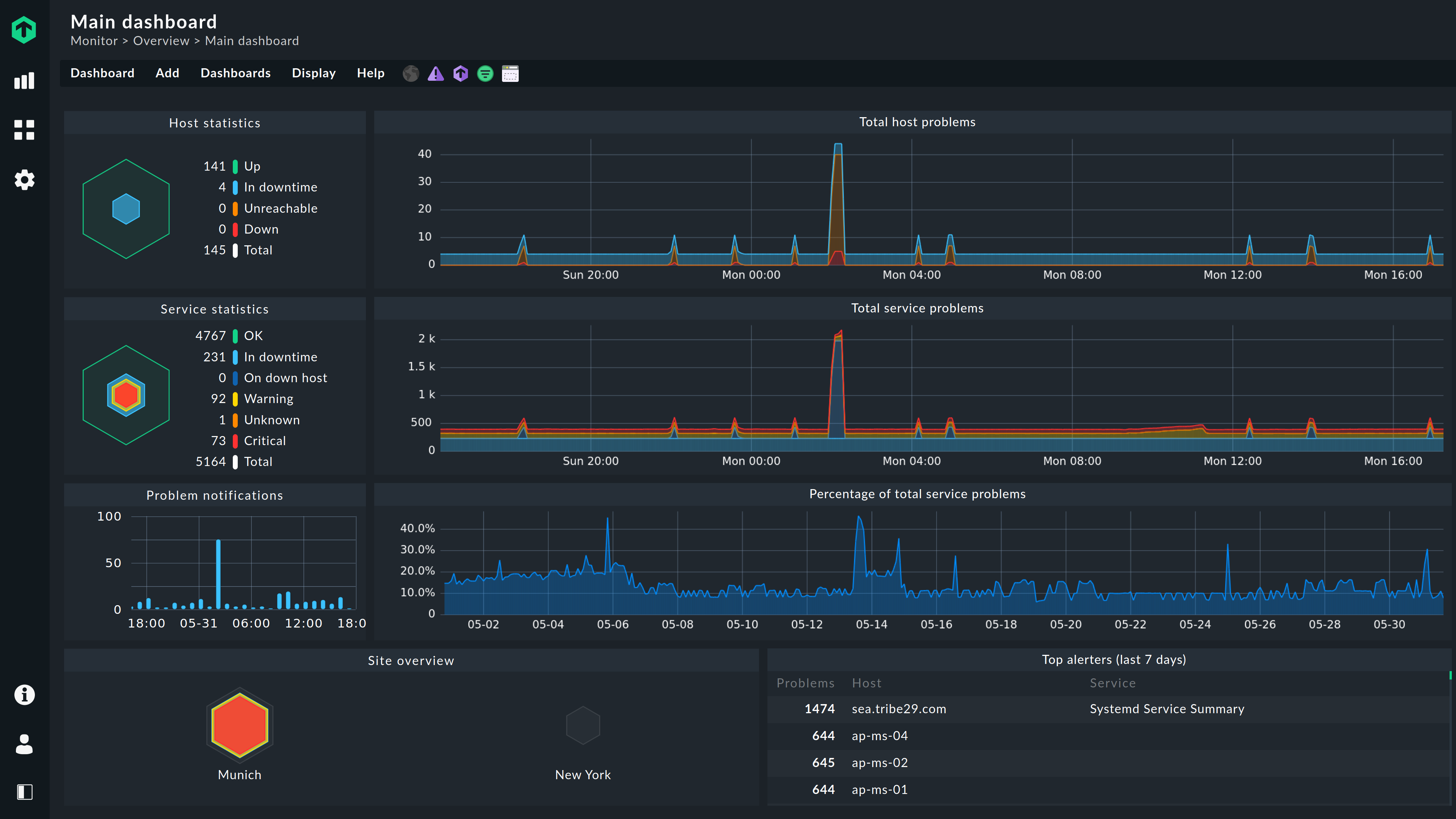 Centralized administration
across all your customer
Automated reports for
each customer
Compliance with
strict data segregation
Easy to set-up
and maintain
Small footprint
in the customer infrastructure
Reliable,
round the clock monitoring
Included features
Comprehensive, easy to customize dashboards for your customers
Seamless integrations with other ITSM/ITOM tools
High degree of automation of deployment, configuration, and reporting
Forecasting of trends and resource utilization with advanced analytics
Intelligent and granular alerts avoid a notification flood
Rule-based configuration, automatic service detection; dynamic HW & SW inventory
Configuration and management of customer sites exclusively via a centrally-managed web interface
Standardized, automated deployment in a few minutes
Strict customer data segregation and data privacy
Minimal resource requirements for the monitoring of over 300 customer sites
Minimal bandwidth consumption
Protection against data loss in the event of a customer connection failure through distributed monitoring
It helps us to provide better services to our customers. We can detect issues faster and spend more time on quality work. Even without prior monitoring experience, it is easy to use.
Marcelo Carvalho -
Sr. Linux AWS Systems Engineer , ICE Consulting
Learn how Swisscom AG, the largest telecommunications company in Switzerland, uses Checkmk to manage over 500 user profiles
We manage over 500 user profiles with diverse approvals for monitoring. Among other things, we can combine inventory and status data in a single view and show the customer exactly how his applications are performing, in real-time
Daniel Röttgermann -
ICT System Engineer, Swisscom Banking
Read the Case Study
FAQ
You need the license option "Managed Services Use" whenever you monitor IT infrastructure that you operate for or provide to a "third party". A "third party" is a company that is not legally part of your company, i.e. it is not an affiliated company, shareholder, or have other similar interests. The third party is simply a customer. It is irrelevant whether the third party itself uses the software or whether you use it only internally, for example, to ensure your own service level agreements towards this customer. It is also irrelevant who owns the infrastructure and whether this infrastructure is located in your data center or in that of your customer. Typical examples: - You use Checkmk to monitor physical or virtual infrastructure that you make available to a Managed Services customer for exclusive use (e.g. provision of virtual machines or hosting physical servers) - You use Checkmk to monitor physical or virtual infrastructure that you operate for a specific Managed Services customer of yours (e.g. as part of a broader Managed Services agreement). The license option 'Managed Services Use' is not required if you only provide your customers with services (e.g. SaaS, email, databases or online shops), but no infrastructure for them to use exclusively. A special feature of the Managed Services license is the purely passive right of use for the Managed Services customer. This means that your Managed Services customer may only have read access to the web interface to retrieve information and/or reports and set maintenance periods. Your Managed Services customer is not entitled to active use, especially in the form of own configuration changes. If this is intended, this customer would require their own separate Checkmk subscription. The Managed Services Usage license option always includes the possibility of using the software as a group. This is already included for customers with the subscription 'Checkmk Enterprise Managed Services Edition' Checkmk Enterprise Managed Services Edition and must only be purchased separately for the Checkmk Enterprise Standard Edition. Conversely, the Group Use license option always includes the possibility of using the software as a managed service provider.
No. The price is determined solely by the total number of monitored services.
For a typical data center you can expect to have around 30-70 services per host. But naturally it makes a difference if you, e.g. monitor a switch only with PING, or a database server with 50 Oracle instances.
The number of productive monitored services is used to determine the appropriate subscription level. This number can be found in the top left of the Checkmk interface's Tactical Overview. If it is the case that you operate Checkmk redundantly in a HA-cluster, the services will not be double-counted. Test systems for evaluating Checkmk versions, etc., are also not counted. If multiple Checkmk instances are in use, then the sum of the services over all of the instances in your business is used to determine the subscription level. Standalone or single HA-Cluster: In your monitoring site, under the host on which your site is running, you can find a service 'OMD MYSITE performance', which has a graph tracking the number of monitored hosts and services. Alternatively, you can search for 'OMD' in the quicksearch to find this service. If the agent on the Checkmk server is older than version 1.2.8. the history of the number of services has to be assumed from the "Check Performance" graph. Distributed Monitoring: The graph already mentioned is available for each site. You can add these graphs to a shared, custom graph to get the total number of services over all sites, and then summarize these.
Yes, you can safely upgrade from the Free, Raw, or Enterprise Edition to the Managed Services Edition at any time without losing your previous configuration setup.
Please have a look at this comparison table to see differences between all Checkmk versions that are currently available.
Great reasons to choose Checkmk as your monitoring tool
Flexible monitoring
Checkmk comes with over 2.000 vendor-maintained plug-ins to monitor any device. It also supports the monitoring of almost every operating system used by your customers.
Limitless monitoring
Monitor world-scale networks with hundreds of thousands of hosts using the high-performance core and distributed architecture of Checkmk.
Future-proof monitoring
Checkmk is Cloud ready and excels in both dynamic container environments and on-premises networks. Enter the Hybrid World.
Powerful automation
Avoid configuration hassles with auto-discovery, auto-configuration, built-in agent management, powerful APIs for integration and fast deployment.
Trusted by customers from +50 countries